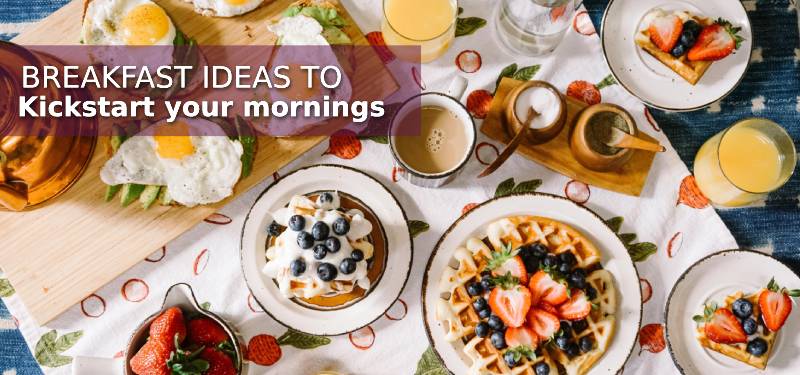 Skip that boring sliced bread and fuel up your morning with some heartwarming breakfast. To inspire and remind you the importance of breakfast, try these easy recipes that will kickstart your day!
Too busy in the morning to prep a healthy breakfast? Overnight oats are the best breakfast meal prep that will change your morning routine for good. It takes less than five minutes to prepare and are packed with whole grains and fibre. Make a batch the night before and you are ready to go the next morning. Need extra antioxidants? Add in superfoods like chia seeds, flaxseed or your favourite berries!
Shop: Le Parfait Mason Jars
Breakfast made in a muffin tin? Why not? Get a scrumptious breakfast by layering bread, egg and bacon, this classic American breakfast is sure to be a crowd-pleaser. Tip: Loosely cover the pan with foil if the toasts are browning too much.
Make savoury or sweet waffles using this all-in-one batter mix. For even lighter waffles, whisk the egg white until fluffy, then fold through the batter. Wake up to warm, crispy golden brown waffles in the morning — or sleep in and have them for brunch or even dessert.
Shop: Cuisinart Waffle Maker
The Reuben sandwich is a classic American hot sandwich that's loved worldwide. Made with delicious corned beef, melted Swiss cheese, tangy sauerkraut, and creamy Russian dressing served on rye bread and grilled to perfection, the Reuben is one sandwich that is packed with flavour. You can also swap out corned beef for pastrami. The iconic Cuisinart Griddler will get the job down in minutes! Its floating cover and reversible plates are easily removable, transforming the Griddler

FIVE from grill to griddle, making it an indispensable partner in the kitchen!
If you want a quick and healthy breakfast, smoothies are a great option when you have a good balance of ingredients. Be it a veggie, probiotic boost or fruity blended option, smoothies are versatile and delicious. Find tips for classic flavour combinations and added healthy extras like seeds and nuts.
Have your breakfast ready in under 30 minutes! This warm tortilla is filled with flulffy scrambled eggs, cheese, avocado and bacon for added flavour and protein. This hearty wrap is the perfect way to start your day! The Lacor non-stick Crepe pan is perfect for tortillas and even sweet or savoury crepes. With non-stick features, you will do not need to be afraid of your tortillas or food sticking to the pan.