Nothing beats enjoying an icy treat on a warm and humid day, especially in our local weather! Not surprisingly, more people are making their own ice cream, gelato, sorbet or yogurt. Save money in the long run with your own ice cream maker if you can't live without these cold desserts!
Here are some tips when shopping for an ice cream machine:
1) Ease of Use
Domestic ice cream machines come in two flavours: those with a freezer bowl and those with a built-in freezer (also known as a fully automatic model).
Freezer bowl: The freezer bowl is a double-walled canister with a gel coolant in the centre. This canister has to be put in the freezer for at least 24 hours before it is placed into the ice cream machine. This means you can only enjoy your creations one day later as planning is needed.
Fully automatic: A fully-automatic ice cream machine is equipped with its own built-in freezer which doubles as a mini freezer as well. This eliminates the need to pre-freeze the bowl and you can have your frozen delights in less than 30 minutes. What's more, you can make multiple batches of ice cream at one go since pre-freezing is not required.
2)    Size matters
Most ice cream machines (whether freezer bowl or fully-automatic) typically have a capacity of 2 litres or less. This should be enough for most households as fresh ice cream should not be kept for more than a week. Smaller batches also means being able to experiment with more flavours and not get stuck with a huge amount of the same flavour. For larger quantities, there are models which can churn out up to 6 litres of ice cream at one go.
3) Material
Examine the components of your potential ice-cream machine to ensure they are not made of flimsy materials such as flexible plastic that can break easily. The paddle undergoes the most wear-and-tear so it should be reasonably durable. Reputable brands generally have paddles that are hard and sturdy (either metal or hard plastic) which can withstand rigorous use. If possible, buy one with a transparent lid to help you keep tabs on the progress of your ice cream.
4) Ease of cleaning
Cleaning the machine can be a hassle if its components cannot be taken apart easily. For compact machines, reaching and cleaning the small crevices will be even more difficult. Most electronic ice cream makers have detachable components like the canister, lid and paddle that can be placed in the dishwasher. Cleaning up on older models may be more tedious.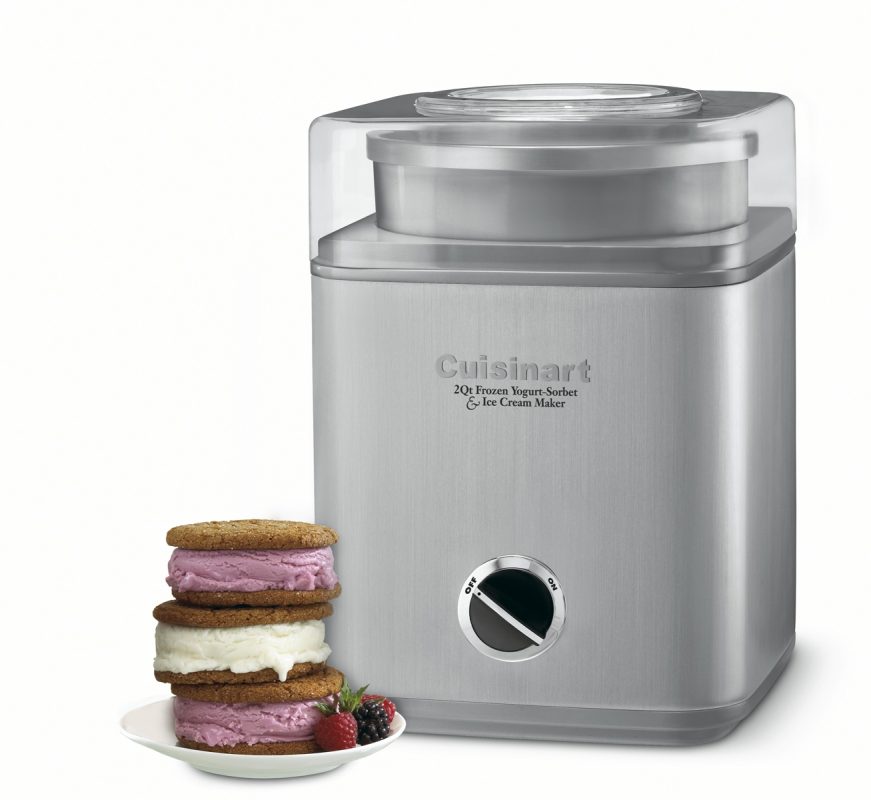 Plugged or unplugged, nobody covers the kitchen like Cuisinart. Cusinart is a full-service culinary resource with a wide array of products, preferred by chefs and favoured by consumers.