Spoil yourself with a sweet treat, Strawberry Lemonade Cheesecake Cups that is tart, rich and creamy!
Cuisine : Baking Course : Dessert Skill Level : Novice
Prep : 50 mins Cook : 0 mins
Ready in : 50 mins Serves : 4-6 servings
---
INGREDIENTS:
Ingredients for Cheesecake Mousse
110g Cream Cheese, Softened
30-45g Icing Sugar
1-2 tbsp Lemon Juice
1/4-1/2 tsp Zest of Lemon (Optional)
1/8-1/4 tsp Vanilla Extract or Vanilla Bean Paste (Optional)
110-120g Dairy Whipping Cream 35% fat
15-30g Strawberry Jam (Optional)
Ingredients for Cookie Crumb Base
5-8 pcs Digestive biscuits or Oreos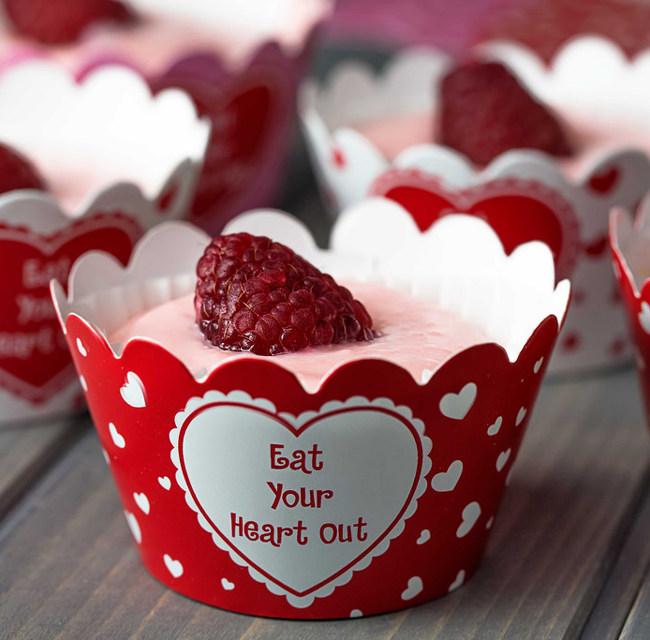 DIRECTIONS:
To make the Cheesecake Mousse, follow steps 2 to 8.
In a cold greaseproof mixing bowl, combine whipping cream, sugar and vanilla.
Using the whisk attachment, whip on medium speed (Kitchenaid speed 6) till soft firm peaks form. Set aside in the fridge.
Separately, using the paddle/whisk attachment, whip softened cream cheese, icing sugar and zest till fluffy.
Fold in lemon juice.
Fold in whipped cream into the cream cheese base.
For a swirled look, drop dollops of the strawberry jam and fold gently. Place mousse into a piping bag with piping tip.
For a pinkish cheesecake look, fold in jam together when adding the lemon juice.
To make the Cookie Crumb Base, follow steps 10 to 14.
Place biscuits in Ziploc bag & crush till biscuits become finely crumbed.
Scoop 1 tbsp of biscuit crumb into each dessert cup.
Pipe cheesecake mousse onto biscuit crumbs.
Refrigerate & top with fresh strawberries before serving.
Keep refrigerated if not consumed within 30 minutes. Eat within 3 days.