Kueh Dadar is a local Peranakan delicacy made from pandan flavoured crepes with shredded Gula Melaka coconut filling that is sinfully good.
Cuisine : Asian Course : Dessert Skill Level : Novice
Prep : 35 mins Cook : 15 mins
Ready in : 50 mins Serves : 6-8 servings
---
INGREDIENTS:
Ingredients for the Batter
60g Plain Flour
1/2 tbsp Tapioca Flour
100g Thick Coconut Milk
100g Water
1 Egg
3/4 tsp Salt
1 tbsp Pandan Juice
Pandan Paste
Ingredients for the Filling
60g Gula Melaka
1 tbsp Water
120g White Grated Coconut
1/4 tsp Salt
1 tsp Tapioca Flour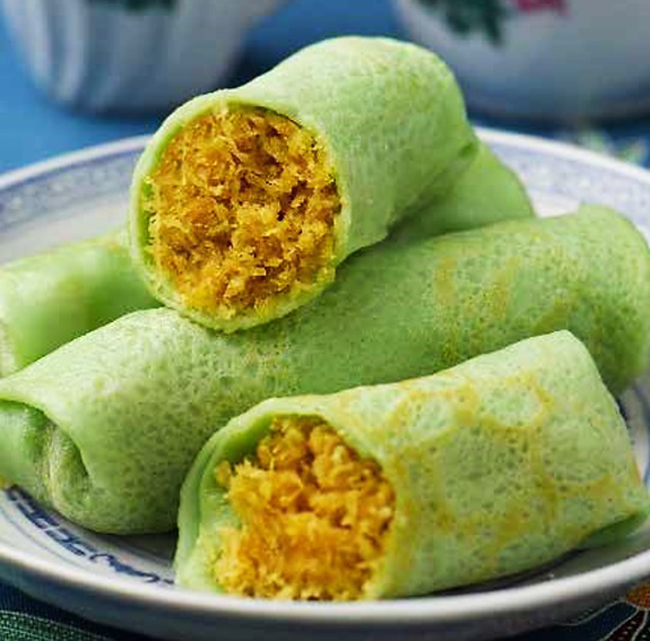 DIRECTIONS:
To make the Batter, follow steps 2 to 4.
Mix all ingredients together till smooth. Sieve & rest for at least 1/2 hr to let the mixture stabilize.
Heat a non-stick pan. Pour 1 tbsp of batter on pan & swirl fast to let batter spread out. Cook under medium flame.
Place coconut filling & roll like a spring roll.
To make the Filling, follow steps 6 to 7.
Dissolve gula melaka in water.
Add in white grated coconut, salt and tapioca flour and stir fry till moisture left.
*Tips:
Try to make the crepes as thin as possible.
Coconut filling should not cook till too dry.
Roll the crepes as tight as possible