Learn to make soba noodles and the broth from scratch with Chef Michele's recipe which is healthy and much more flavourful!
Cuisine : Asian Course : Main Skill Level : Novice
Prep : 30 mins Cook : 10 mins
Ready in : 40 mins Serves : 2
---
INGREDIENTS:
Ingredients for Soba Noodles
1) 100g Buckwheat Flour
2) 25g All-purpose Flour
3) 60g Water
4) Buckwheat starch or tapioca starch, for rolling the soba
Ingredients for Noodle Broth
5) 5 cups of Dashi
6) 3 tsp Japanese Soy Sauce
7) 1 tbsp Mirin
8) 1 tbsp Sugar
9) 1 tsp Kosher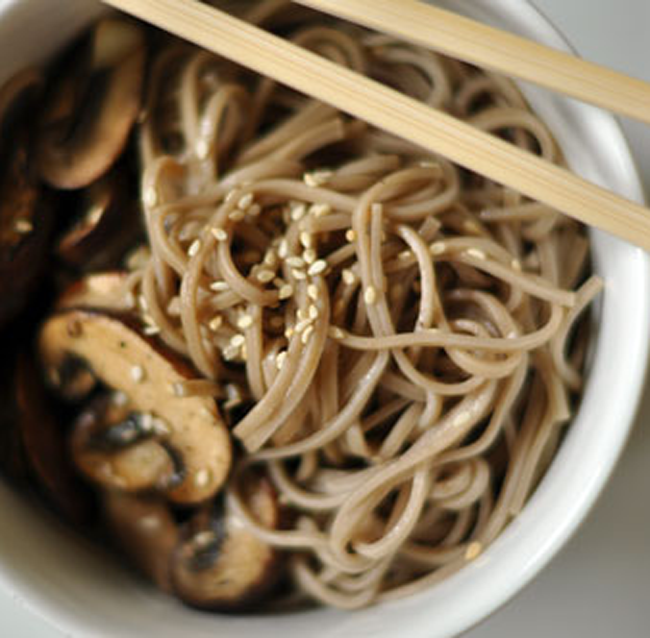 DIRECTIONS:
To make the Soba Noodle, follow steps 2 to 12.
Combine the flours: Weigh the two flours. Sift them through the strainer into a large mixing bowl.
Add the water to the flour: Measure the water and pour it over the flours.
Knead until a crumbly dough is formed: Work the flours and water together with your hands and then knead it in the bowl until it come together into a rough and slightly crumbly dough. If the dough feels dry or you can still see dry flour after a few minutes of kneading, then add water a tablespoon at a time until all the flour is integrated. Conversely, if the dough feels very wet and sticky, add all-purpose flour a tablespoon at a time until it becomes a workable dough.
Knead the dough on the counter until smooth: Turn the dough out onto the counter. Continue kneading until it holds together easily, does not crack while kneading, and becomes smooth. You should not need to add any more flour at this point. The dough will be very dense — use all your strength!
Thin the dough with pasta maker until 3.
Cut dough.
Cook the soba: Set a strainer in your sink.
Fill a large bowl with cold water and ice cubes, and set this near the sink.
Bring a large pot of water to a boil. Salt the water generously and drop in the soba. Cook for 60 seconds, then drain through the strainer in the sink.
Rinse thoroughly under cool water, lifting and gently shaking the soba until the cooking film is rinsed away.
Immediately dunk the soba in the bowl of ice water. Drain and serve with dashi, soy sauce, and sesame oil.
To make the Noodle Broth, follow step 14.
Combine all of the ingredients in a medium saucepan and bring just to a boil, stirring once or twice to dissolve the sugar and salt. Serve hot with soba noodles.