Spanish Seafood Braised in Tomatoes and White Wine and Chef Eric's Special Garlic Bread
By Eric Low
A Spanish Zarzuel is hearty seafood stew, perfect meal to enjoy with Chef Eric's Special Garlic Bread.
Cuisine : Mediterranean Course : Main Skill Level : Novice
Prep : 15 mins Cook : 30 mins
Ready in : 45 mins Serves : 4 servings
---
INGREDIENTS:
Ingredients for Zarzuel De Mariscos
4 tbsp Olive Oil
100g Yellow Onions, chopped
2 cloves Garlic, shopped
1 tbsp Tomato Paste
Large Pinch of Saffron
300ml White Wine
400ml Can Chopped Tomatoes
400ml Chicken Stock
1kg Clams
200g Squid or Baby Cuttlefish
200g Prawns, peeled
Salt and Pepper
2 stalks of Parsley, chopped
Ingredients for Garlic Bread
250g Unsalted Butter
200g Parmesan Cheese
1 tsp Paprika Powder
2 tbps Tobasco Sauce
1 tsp Salt
2 stalks Parsley, chopped
Worcestershire Sauce (Lea and Perrins)
Thickly Sliced Baguette or French Bread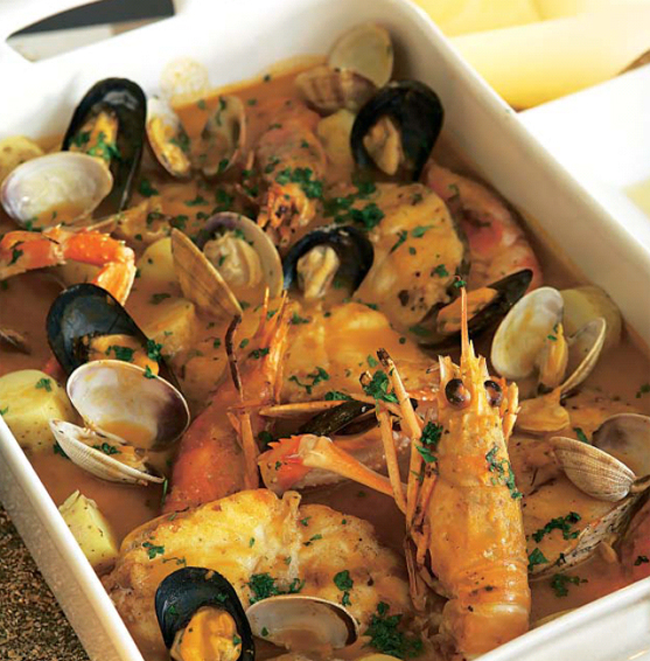 DIRECTIONS:
To make Zarzuel De Mariscos, follow steps 2 to 5.
In a large soup pot, heat olive oil and sauté onions and garlic till fragrant. Add tomato paste and cook briefly before adding in saffron.
Pour in white wine; add the chopped can tomatoes and chicken stock. Bring to boil.
Add clams, cuttlefish and prawns, cook till clams are completely opened and discard any that remaining tightly shut.
Taste soup, adjust seasoning with salt and pepper, and sprinkle on chopped parsley before serve.
To make the Garlic Bread, follow step 7.
Combine all ingredients for garlic butter except bread. Mix well and chill until ready to use.