Love seafood? Savour the freshness of the seafood in white wine sauce topped with creamy, buttery mashed potato.
Cuisine : American Course : Appetizer Skill Level : Novice
Prep : 20 mins Cook : 75 mins
Ready in : 95 mins Serves : 2 servings
---
INGREDIENTS:
400g Mussels
400g Clams
500g Potatoes
200ml Milk
50g Butter
50ml Cream
50g Parmesan Cheese
50ml White Wine
25g Butter
25g Flour
200ml Fish Stock
4 Prawns
4 Scallops
100g Leek
100g Broccoli
100g Asparagus, stencil
100ml Cream
1g Lecithin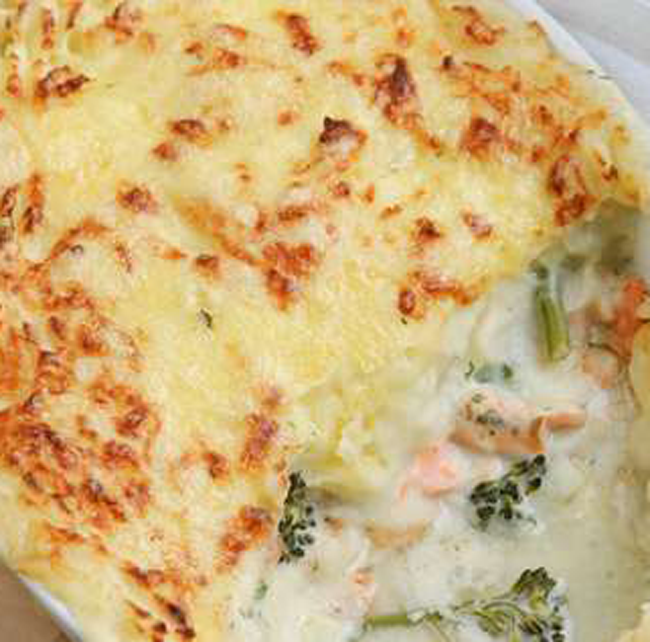 DIRECTIONS:
Mussels and clams should be the best available quality – ideally to be bought from the fish market. If this quality is not available – consider buying the mussels a day in advance, wash them and keep them in cold salt water over night – the mussels will clean themselves with the clean cold water.
Peel the potatoes – set on a stove and cook till soft (about 30mins – depending on the size of the potatoes).
Discharge the water – mash the potatoes. Reheat the milk with the butter and incorporate into the potatoes. Add in the cream and half of the Parmesan Cheese.
Set a bigger pot onto the stove, reheat to 180C – add olive oil, mussels & clams. Add white wine and cover.
Cook the clams and mussels till it's open. Switch off the stove. Discharge the liquid. Pick the mussels and clams. Discharge the shells – leaving intact 4 pieces each.
Produce a Roux fish sauce. Use a pot and melt the butter, add the flour – stir constantly – add the white wine and fish stock – boil for about 10 minutes. Set aside. Peel the prawns and cut in half, slice the scallops into quarters. Use the warm Roux (fish sauce) – add the seafood and the vegetables.
Use a fire proof dish – add first the fish and vegetables and top with the sauce. Add mash potato onto the top. Sprinkle with Parmesan cheese and bake in the oven for 15-20 minutes at 180C until the Parmesan cheese have turned golden brown.
Meanwhile use he leftover fish stock, add cream, milk and lecithin to create foam.
To assemble: Remove the pie from the stove and assemble the mussels and clams we kept from before. Sprinkle some fine potato chips, garnish with micro greens and fish stock foam.