You won't be able to resist this delicious and elegant stuffed Turkey Cordon Bleu served with Cranberry Marmalade.
Cuisine : European Course : Main Skill Level : Novice
Prep : 20 mins Cook : 40 mins
Ready in : 60 mins Serves : 1
---
INGREDIENTS:
1) 1 whole Boneless Chicken Breast/ Leg
2) Salt and Pepper
3) 2 slices of Smoked Turkey Breast or Chicken Ham
4) 1 slice of Emmental Cheese
5) Plain flour for dusting
6) Egg Wash
7) Breadcrumbs
Ingredients for Roasted Vegetables
8)200g Japanese Pumpkin, cut into wedges
9) Zucchini
10) Salt and Pepper
11) Olive Oil
Ingredients for Mushroom Sauce
12) 1/2 tsp Chopped Garlic
13) 20g Chopped Onion
14) 100g Butter Mushrooms, sliced
15) 100ml Whipping Cream
16) 1/2 tsp Concentrated Chicken Stock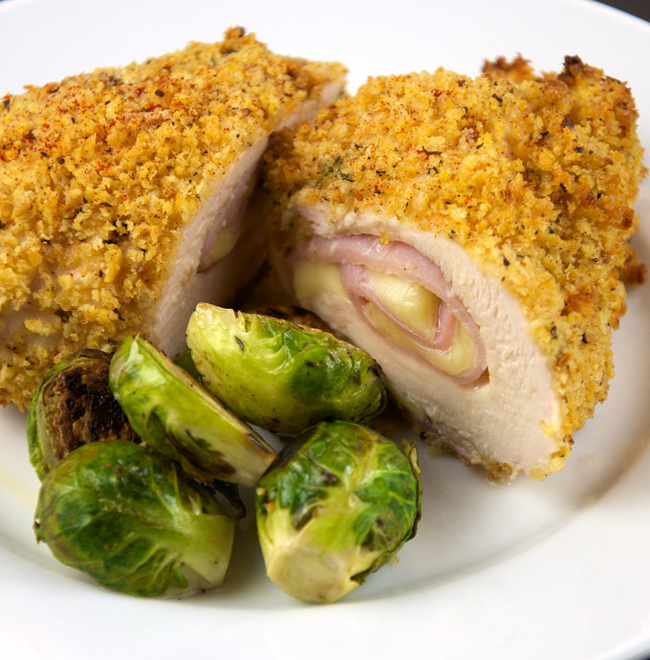 DIRECTIONS:
Make a half slit to the left and to the right from the centre of the thicker end of the chicken breasts.
Season chicken breasts with salt and pepper.
Place a piece of ham and cheese in center of chicken breast. Fold the flaps inwards and dust chicken with flour. Dip the chicken pieces into the egg wash and dredge through the bread crumbs.
Preheat oven to 180C. Toss pumpkins with olive oil and seasoned zucchini to the pumpkins at the last 10 mins of roasting. Set aside the roasted vegetables.
Heat oil in pan, pan fry chicken till cook and set aside to keep warm.
Heat butter in pan and saute the garlic and onions till fragrant, add mushrooms and pour in the cream.
Cook mushrooms until cream is slightly reduced and season sauce with concentrated chicken stock.
Pour sauce over the chicken Cordon Bleu and serve with roasted vegetables.