Craving for ice cream but watching your waistline? Creamy, cold and thick enough to eat with a spoon, smoothie bowls are the next best thing to eating ice cream! Make yours today and add all your favourite toppings!
Cuisine : Healthy Cooking Course : Appetizer Skill Level : Novice
Prep : 5 mins Cook : 0 mins Ready in : 10 mins Serves : 1

---
INGREDIENTS:
1 cup Frozen Strawberries
1/2 cup Yogurt
1/4 cup Milk
1 cup Blueberries
1/2 cup Granola
1/2 cup Pumpkin Seeds
Chia Seeds
1/4 cup Almonds
Maple Syrup
Vanilla Extract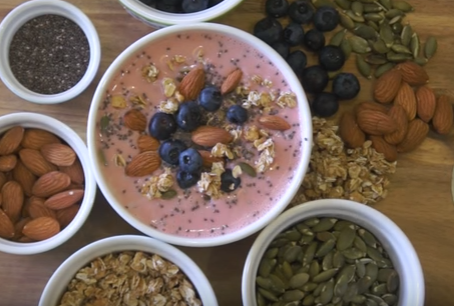 DIRECTIONS:
Mix strawberries, yogurt, milk, maple syrup, vanilla extract and blend until smooth!
Pour the smoothie into a bowl and decorate!
Add in blueberries, almonds, pumpkin seeds, granola and chia seeds.
Enjoy!