Looking for an easy-to-make brunch recipe that can feed a crowd? This frittata filled with mushrooms, peppers and cheese will do the perfect job! And what's even better.. Everything is done in just one trusty cast-iron skillet!
Cuisine :  Baking Cuisine : European Course : Main Skill Level : Novice
Prep : 10 mins Cook : 15 mins Ready in : 25 mins Serves : 6-8

---
INGREDIENTS:
2 medium (400g) sebago potatoes
2 tablespoons olive oil
1 onion, chopped
70g Primo Gourmet Selection Pancetta, chopped
1 red capsicum, julienne
8 eggs
1/2 cup milk
1/2 cup shredded parmesan cheese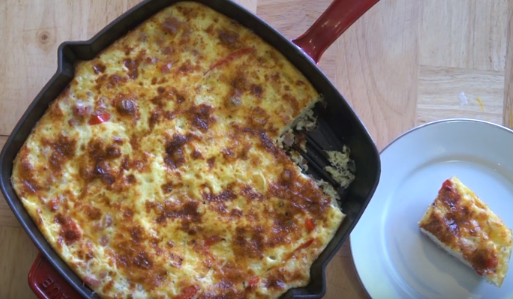 DIRECTIONS:
Crack all the eggs into a mixing bowl, add milk, salt and pepper and whisk all together.
Oil and heat up a pan. Put in the onion and capsicum and stir fry till golden brown.
Add in ham and cheese and lastly the eggs.
Cook for 10 minutes on low heat and bake in the oven at high heat.
Remove it from the oven after 5 minutes.
Serve and enjoy!