A classic, simple-to-make Seafood Marinara with mussels and prawns tossed through a tasty tomato sauce.
Cuisine : European Course : Main Skill Level : Novice
Prep : 10 mins Cook : 20 mins
Ready in : 30 mins Serves : 2-5
---
INGREDIENTS:
Olive oil
1 no Anchovies
1/2 no Calamari
4 no Prawns
8 no Mussels
2 cloves Garlic, minced
1/2 no Onion, finely chopped
1/4 cup White wine (optional)
1 cup Tomato crushed tomato / tomato puree
1 cup Water
1/2 tsp Sugar
2 tbsp Finely chopped fresh parsley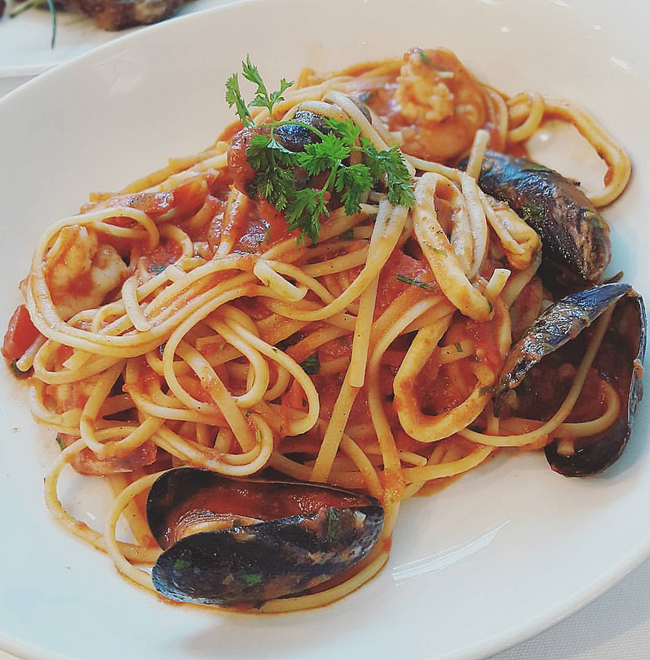 DIRECTIONS:
Heat butter with olive oil in a large skillet over high heat. Add seafood and cook. Take the calamari out at 1 minute, prawns at 1½ minutes. Transfer into a bowl.
Reduce heat to medium high. Heat remaining 1 tbsp oil, then add garlic, anchovies and onion. Cook for 3 minutes until onion is translucent.
Add wine and bring to simmer, scraping the bottom of the skillet to mix the brown bits into the liquid.
Simmer for 1 minute or until alcohol smell has evaporated.
Add tomato mix, sugar, salt & pepper. Low heat to medium high, bring to simmer and cook for 2 minutes. Adjust salt and pepper to taste.
Add pasta, seafood, around ½ cup of reserved pasta cooking water into paper bag. Toss gently and wrap the papier.
Bake at 180C for 10 minutes.
Serve, drizzle with olive oil and garnish.