Treat your family to a hearty meal with Chef Susanne's Red Snapper Fillet recipe. Learn to perfect the cook on Red Snapper Fillet and serve it with a bed of Sweet Potato Aioli and Slow Roasted Tomatoes and Bell Pepper.
Cuisine : European Course : Main Skill Level : Novice
Prep : 20 mins Cook : 150 mins
Ready in : 170 mins Serves : 4 servings
---
INGREDIENTS:
Ingredients for Slow Roasted Tomatoes and Bell Pepper
8 Cocktail Tomatoes – on vine
4 Red Mini Bell Pepper
4 Yellow Mini Bell Pepper
Salt, Pepper, Icing Sugar and Olive Oil
Ingredients for Sweet Potato Aioli
200g Sweet Potato (orange)
1 tbsp Olive Oil
6 cloves of Garlic, finely chopped
1 stalk of Lemongrass, cut into two
40g Fresh Ginger, peeled and finely chopped
20g Fresh Turmeric, peeled and finely chopped
2 sprigs of Chinese Chives
1 Lime Juice
20ml Olive Oil
Salt and Pepper
Ingredients for Red Snapper Fillet
4 fillets of Red Snapper, 125g per portion
1 tbsp Olive Oil
1 tbsp Lemongrass & Citrus Fruit Oil
Salt and Pepper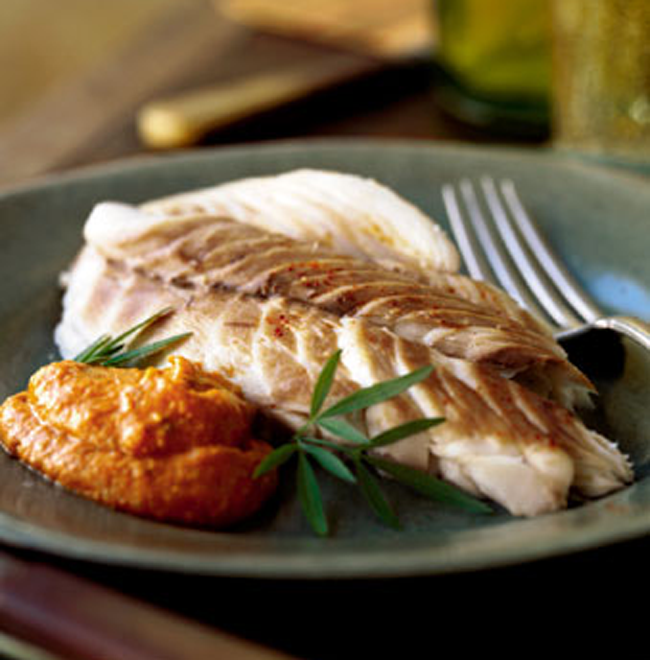 DIRECTIONS:
To make the Slow Roasted Oven Tomatoes and Mini Bell Pepper, follow steps 2 to 4.
Wash and dry the cocktail tomatoes and mini-bell pepper. Don't remove tomatoes from vine, but leave always 2-3 tomatoes on a sprig.
Arrange them in an ovenproof dish, sprinkle with olive oil, salt, pepper and dust with some icing sugar.
Slowly roast them in the oven at 120° C for 1-2 hours, until they are tender and slightly reduced in size and shriveled.
To make the Sweet Potato Aioli, follow steps 6 to 8.
Peel the sweet potatoes, slice them finely – work fast, they will oxidase very quickly and the nice orange color will turn into brown!
Heat olive oil in a heavy bottomed pan, add chopped garlic, lemon grass, ginger, turmeric and sweet potatoes and sweat for about 20 minutes.
Add about 20 ml water during cooking time, to prevent from burning! When soft (check with a fork), take out the lemon grass stalk and mix sweet potatoes in a blender, adding lime juice, then olive oil little by little until consistency is very smooth and not too thick.
To cook the Red Snapper Fillet, follow steps 10 to 13.
Heat olive oil in a non-sticking pan.
Season red mullet filets with salt, then pan fry fillet, skin side down first until skin is crisp on medium to high heat for about 1 minute.
Reduce heat, then turn fillet over and pan-fry other side until just cooked – depending on how thick the fillet is, this takes 2-3 minutes.
Turn off heat; leave the fish in the hot pan for another minute or two.
To serve, follow steps 15 and 16.
Spoon some sweet potato aïoli onto serving plates, then top with red snapper fillet and garnish with lime basil and some finely chopp ed spring onion.
Add the oven roasted vine tomatoes and mini-bell pepper on the side. Drizzle some lemon grass and citrus fruit oil over the dish and serve.