What is better than a Baked Nutella Doughnut Muffin to end your meal! Surprise your family and friends with a delicious Doughnut Muffin stuffed with luscious Nutella and coated with Cinnamon Sugar!
Cuisine : Baking Course : Dessert Skill Level : Novice
Prep : 15 mins Cook : 15 mins
Ready in : 30 mins Serves : 12 muffins
---
INGREDIENTS:
Group 1
150g Sugar
1 Egg
1 tsp Vanilla Extract
Group 2
220g Cake Flour
1/4 tsp Salt
1/2 tsp Cinnamon Powder
2 tsp Double Baking Powder
Group 3
180g UHT Milk
60g Corn Oil
150g Nutella Chocolate
50g Butter for melting
Cinnamon and sugar for coating of the muffin.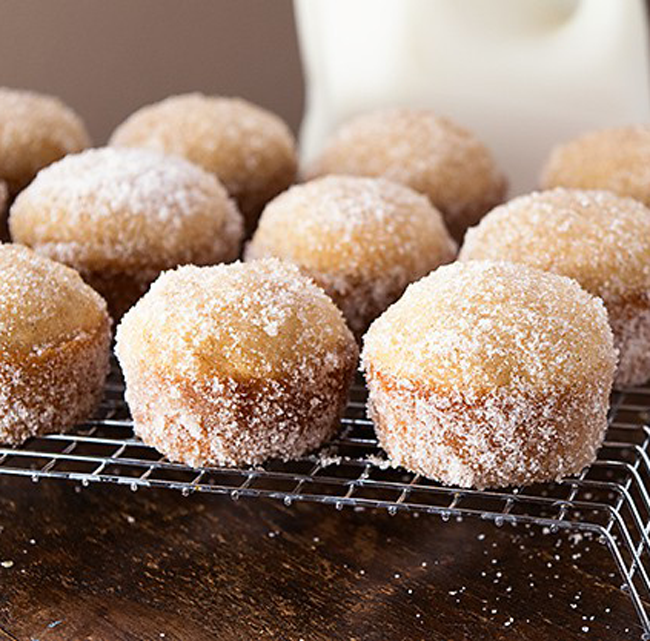 DIRECTIONS:
Beat eggs and sugar (Group 1) till light.
Sift all the dry ingredients in Group 2 together.
Fold the dry ingredients into the egg mixture and mix it well.
Pout in the milk and corn oil in Group 3.
Fill each muffin cup 1/2 full, put in some Nutella chocolate and cover it with more batter.
Bake at 180C for 15-18 mins.
Melt 50g of butter for brushing of the muffin and rolling it with cinnamon sugar.