Learn to make this traditional Malaysian dessert, Pulut Inti made of steamed glutinous rice with a sweet coconut topping from Chef Julie Yee.
Cuisine : Baking Course : Dessert Skill Level : Novice
Prep : 180 mins Cook : 65 mins
Ready in : 245 mins Serves : 6
---
INGREDIENTS:
Ingredients for Glutinous Rice
220g Glutinous Rice
200g Coconut Milk
1/2 tsp Salt
8 sheets Banana Leaf (7" x 6" rectangle)
Ingredients for Caramel Coconut Topping
150g White Grated Coconut
75g Gula Melaka Sugar
80g Water
1 tbsp Butter
2 Pandan Leaf
1 tsp Corn Flour + 2tbsp water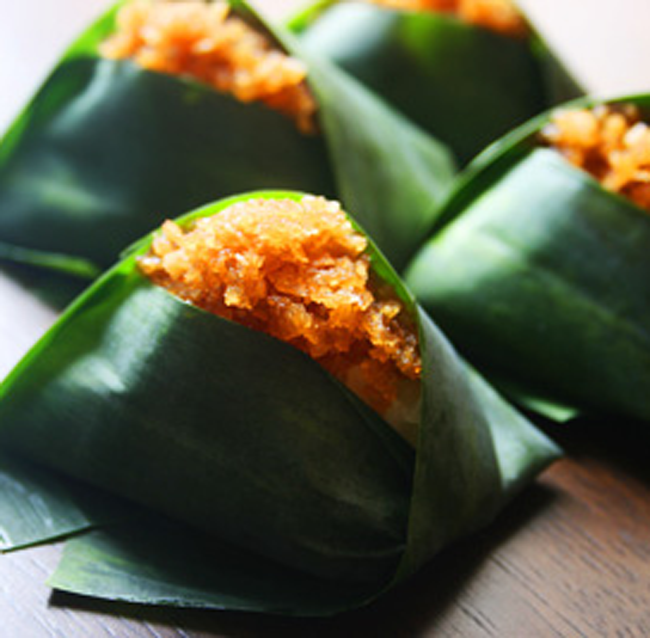 DIRECTIONS:
For Glutinous rice, follow steps 2 to 5.
Wash and soak rice for about 3hrs.
Mix all the ingredients and steam for 25mins.
At 20mins, use a fork to fluff up the rice and cover and steam for another 5mins.
If using the pea flower dye, take out ¼ of the rice and mix with the blue dye.
For the Caramel Coconut Topping, follow steps 7 to 10.
Boil water, Gula Melaka sugar, pandan leaf till sugar has melted.
Add in the grated coconut and butter. Cook for 5mins.
Add in the corn flour solution and cook for 2mins. Off fire.
Pile a scoop of rice on the banana leaf. Add a tablespoon of caramel coconut topping. Wrap up into "Nasi Lemak" way. (See demo).