Enjoy this dark, rich chocolate cake covered in a luxurious chocolate ganache for the perfect finish to your meal.
Cuisine : Baking Course : Dessert Skill Level : Novice
Prep : 30 mins Cook : 25 mins
Ready in : 55 mins Serves : 12-16 servings
---
INGREDIENTS:
Ingredients for the Sponge
10 Egg Yolks
5 Egg Whites
10g Emulsifier
150g Caster Sugar
100g Plain Flour
1 tbsp Full Cream Milk Powder
1 tbsp Corn Flour
150g Butter
1 tbsp Sweet Condensed Milk
1 tbsp Plain Yoghurt
2 tbsp Chocolate Paste
1 tsp Strawberry Essence
Some red food colourings
Strawberry Jam to spread
Ingredients for the Chocolate Ganache
250g Bittersweet Chocolate
115g Whipping Cream
1 tbsp Golden Syrup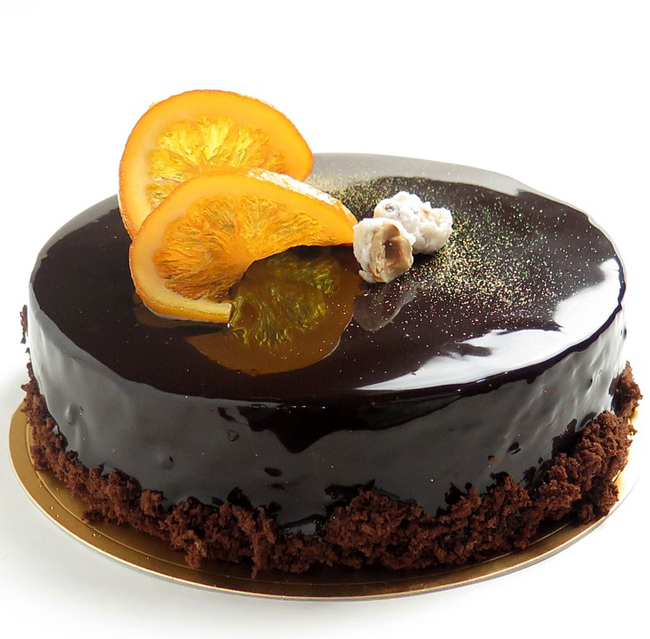 DIRECTIONS:
Preheat oven at 175°C. Grease and line 2 of 22x10x4cm pans.
Melt butter in microwave, add in condensed milk and mix well.
In a bowl, beat in high speed eggs and sugar till thick, fluffy and expand triple the size.
Lower the speed and add in yoghurt, sifted both flours and milk powder.
Add in about ¼ of the batter to the melted butter and mix well.
Pour in the mixture into the remaining batter and fold in gently.
Take 1/3 of the batter and mix in strawberry essence and some red food colourings.
Pour the chocolate batter in 1 of the pan while the strawberry batter in another tin.
Tap all the pans gently before putting in the oven to release the trapped air bubbles.
Bake for 20-25mins or till skewer test comes out clean.
Remove from oven immediately invert to cooling rack. Let cool.
Spread jam on the inverted strawberry cake, top with chocolate cake, and spread jam on it, top with the chocolate cake.
Cut the cake into 3 x 3 cm small square.
Prepare the ganache by melting the chocolate, heavy cream and golden syrup using the double boil method.
Leave ganache to cool for 10 minutes to thicken. Coat ganache over the small cakes. Decorate with some white chocolate.