This quick and crowd pleasing recipe for Peach Crumble Cake is the perfect finish to your meal!
Cuisine : Baking Course : Dessert Skill Level : Novice
Prep : 20 mins Cook : 30 mins
Ready in : 50 mins Serves : 4-6
---
INGREDIENTS:
Ingredients for Crumble Topping
260g All Purpose Flour
220g Brown Sugar
340g Unsalted Butter
6g Cinnamon Powder
230g Unsalted Butter
270g Caster Sugar
100g Whole Eggs
260g All Purpose Flour
6g Baking Powder
5g Salt
4 halves Canned Peaches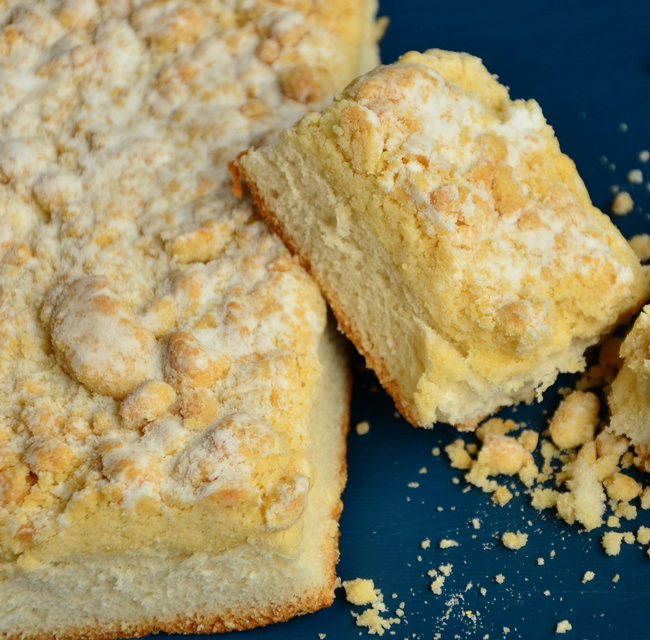 DIRECTIONS:
To make the crumble topping, follow step 2.
Combine all ingredients in a mixer until well combined and resembled a crumble mixture. Use as required.
To make the cake, follow steps 4 to 12.
Pre heat the oven to 175°C.
Sift flour, baking powder and salt.
In a mixer fitted with a paddle beater, cream the butter and sugar till light.
Add eggs gradually. Continue to beat until batter is light and fluffy.
Add the sifted dry ingredients. Beat till just combined.
Spread batter evenly in the 7 inch round pan.
Layer the peaches evenly on the surface of the batter then top with the crumble topping.
Bake for approximately 20-30 minutes till color are even.
Use a testing pin to check the doneness.