Dark Chocolate Roll Cake with Salted Caramelized Banana Filling
By Mimi Wahadi
The hunt for the best Chocolate Roll Cake is over! Learn to bake this delicate Dark Chocolate Roll Cake with Salted Caramelized Banana Filling recipe from Chef Mimi.
Cuisine : Baking Course : Dessert Skill Level : Novice
Prep : 30 mins Cook : 10 mins
Ready in : 40 mins Serves : 6-8
---
INGREDIENTS:
Ingredients for the Flour-less Chocolate Sponge
150g Egg White
135g Sugar
125g Egg Yolk
50g Coco Powder
60g Icing Sugar
50g Toasted Almond
Ingredients for the Chocolate Ganache
100g Whipping Cream
100g Chocolate Couverture
Ingredients for the Chocolate Mousse
100g Whipping Cream
100g Chocolate Couverture
Ingredients for the Salted Caramel Banana
100g Sugar
170g Whipping Cream
65g Glucose
40g Butter
3g Sea Salt
1 Large Banana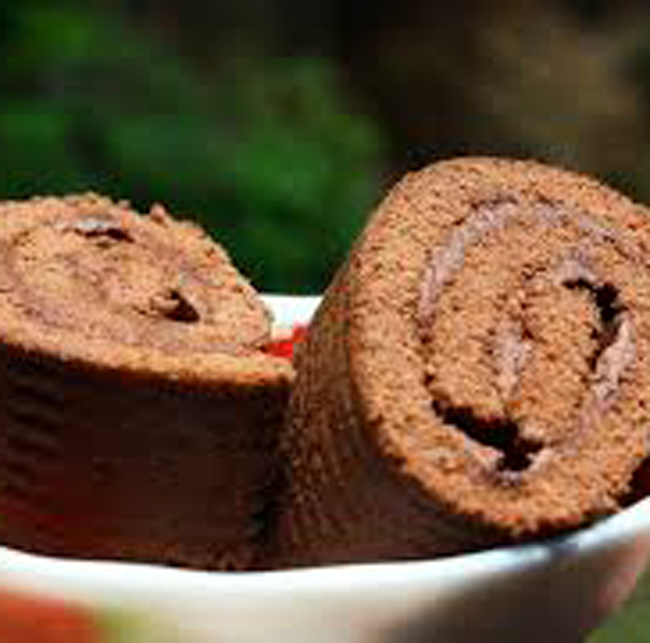 DIRECTIONS:
For the Flour-less Chocolate Cake, follow steps 2 to 8.
Sift the cocoa powder and icing sugar.
Beat the egg yolk.
Whip egg white and sugar till form meringue.
Fold into the beaten egg yolk.
Follow by gently incorporate the flour and cocoa mixture.
Tip the batter into a greased baking tray and line with baking parchment.
Bake at 210 degree for approximately about 8-10mins.
To make the Chocolate Ganche, warm the cream and gently add into the chocolate couverture to emulsify.
To make the Chocolate Mousse, whip the cream to soft peak and melt the chocolate over bain marie. Fold in the cream into the chocolate courverture till forma mousse.
For the Salted Caramel Banana, follow steps 12 to 15.
Heat up Sugar and Glucose to 160 degree.
Add cream and finish off with butter and salt.
Add large banana.
Ready for use.
Lay out the chocolate cake and add the chocolate mousse and chocolate ganache on top of the cake. Lay the salted caramel banana and roll the cake.