Learn to make this rich, creamy Mushroom Risotto from scratch!
Cuisine : European Course : Main Skill Level : Novice
Prep : 5 mins Cook : 100 mins
Ready in : 105 mins Serves : 2-4 servings
---
INGREDIENTS:
Ingredients for Chicken Stock
100g Chicken bones
2-3 stalks Celery
1/2 no Carrot
1 no Onion
Ingredients for Risotto
100g Risotto rice
20g Butter
3-4 no Shitake mushrooms (sliced)
2 no Garlic (minced)
1 L Hot vegetable/chicken stock
1 tbsp Parmesan Cheese
Pepper to taste
Salt to taste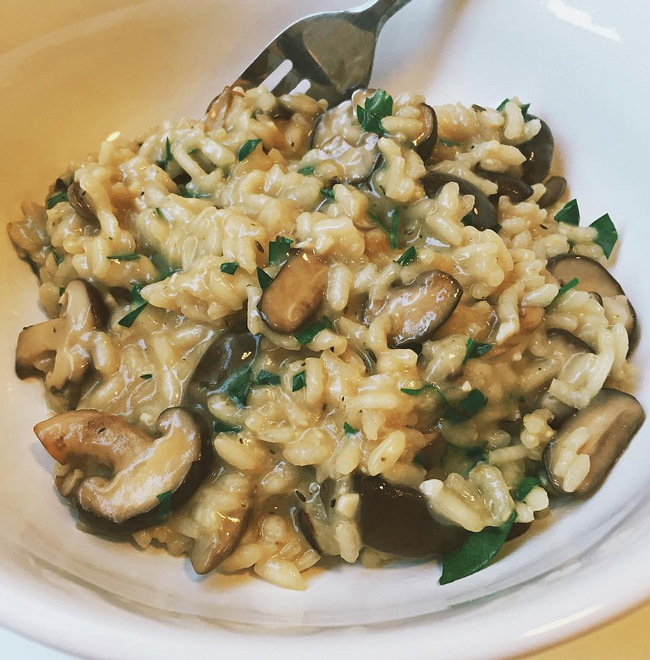 DIRECTIONS:
For the Chicken Stock, follow steps 2 to 4.
Pre heat oven to 200.
Roast chicken bones in oven for 15-20 mins.
Put bones and vegetables into pot or pressure cooker, low heat for 1hr (30mins in pressure cooker).
For the Chicken Stock, follow steps 6 to 11.
Melt butter in pan, sauté mushrooms for 3-4 mins. Remove from heat.
Add garlic and risotto rice into pan and sautéed until rice turns slightly translucent.
Add one ladle of the hot stock and stir the risotto until the stock gets absorbed into the rice.
Continue process until rice is cooked (al dente)
Add in mushrooms and cheese.
Salt and pepper to taste.