This classic and hearty French appetizer, Chicken & Mushroom Vol-au-vents not only looks pretty but it tastes delicious too!
Cuisine : European Course : Appetizer Skill Level : Novice
Prep : 10 mins Cook : 40 mins
Ready in : 50 mins Serves : 30 servings

---
INGREDIENTS:
Ingredients for Chicken & Mushroom Filling
1 Small Onion, finely chopped
1 clove of Garlic, finely chopped
30g + 20g Butter
300g Mushrooms (Swiss Mushrooms, shiitake…)
50ml White Wine
100g Frozen Green Peas
200g Chicken, sliced 1×1 cm
300g White Sauce (béchamel : recipe below)
30g Parsley, finely chopped
Salt & Pepper
Ingredients for Bechamel Sauce
30g Butter
30g Flour
150ml Chicken or Vegetable Stock
200ml Milk
50ml Cream
Pepper, freshly grated nutmeg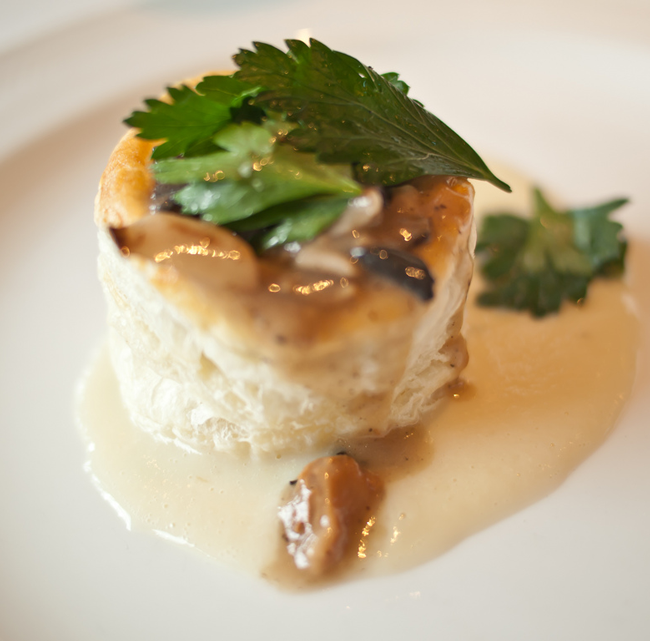 DIRECTIONS:
For the Chicken & Mushroom filling, follow steps 2 to 9.
Clean Swiss mushrooms and shitake mushrooms with a wet towel, trim the ends if necessary. Cut in two, slice them not too finely.

Prepare Bunashimei: trim the stems, blanch them in salted, boiling water for 2 minutes.

In a frying pan, add butter, and then add finely chopped onion and garlic. Fry on low heat until translucent, then add garlic and mushrooms. Deglaze with white wine, then add salt and pepper, then cook on high heat, until water comes out of mushrooms. Cook for about 5 minutes, in order to reduce the juice. Set aside.

Using the same pan, fry chicken quickly in 20 g of butter, inside still raw – set aside.

Using the same pan, prepare béchamel (recipe below).

Add mushrooms with juice and green peas, mix well, then season to taste – if the sauce is too runny, let cook for some more, in order to thicken the sauce.

Add chicken, bring to a boil, stirring well, then turn off heat and let rest for 5 minutes.

During this time, reheat vol-au-vents for 5 minutes, then fill with mushrooms and chicken filling and serve with steamed rice.

For the Chicken & Mushroom filling, follow steps 11 to 14.

Melt butter in a medium saucepan over medium-high heat. Add flour.

Cook and stir it for 1 to 2 minutes or until bubbling.

Slowly add stock, milk and cream, whisking constantly, until mixture is smooth. Return to heat. Cook, stirring with a wooden spoon, for 5-8 minutes or until sauce comes to the boil, thickens and coats the back of a wooden spoon.

Remove from heat. Stir in pepper and nutmeg.