The hunt for the perfect Chiffon Cake is over! Do not miss out this light and refreshing Yuzu Pineapple Chiffon Cake recipe by Chef Julie.
Cuisine : Baking Course : Dessert Skill Level : Novice
Prep : 15 mins Cook : 60 mins
Ready in : 135 mins Serves : 6-8
---
INGREDIENTS:
Group 1 (Hand-whisk together)
5 no Egg yolk (Group 1)
70g Castor sugar (Group 1)
50g Warm oil (Group 1)
Group 2 (Mix well)
100g Yuzu Juice (Group 2)
1 tbsp Lemon Juice (Group 2)
1/2 tsp Orange Zest (Group 2)
50g Pineapple Bits (Group 2)
Group 3
120g Cake flour (sifted) (Group 3)
1/2 tsp Fine salt (Group 3)
Group 4 (Beat together last using mixer)
190g Egg whites (Group 4)
100g Castor sugar (Group 4)
2 tsp Corn Flour (Group 4)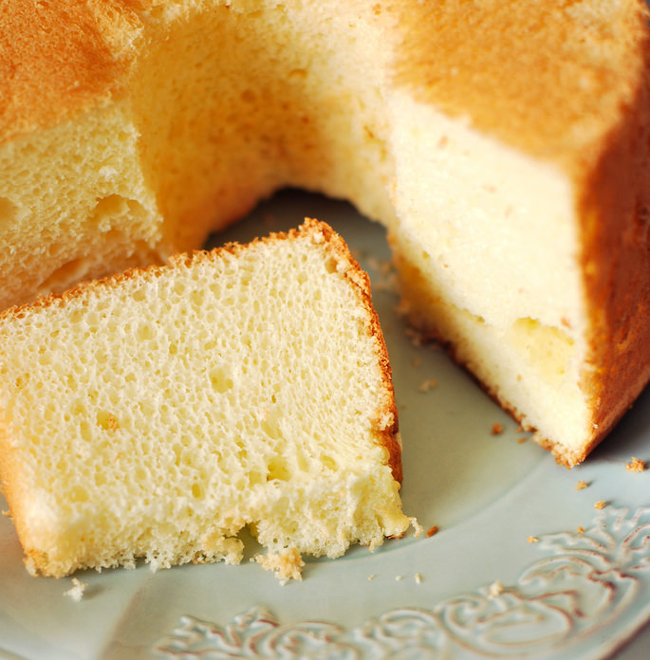 DIRECTIONS:
Tray Preparation: 22cm Chiffon Tin.
Oven Preparation: Pre-heat oven at 170C for 20mins.
To make the Yolk Mixture, follow steps 4 to 6.
Use a hand whisk to combine the ingredients in Group 1.
Pour Group 2, the liquid mixture in and mix well.
Mix in the sifted flour.
To make the Egg White Mixture, follow steps 8 to 12.
Whisk the egg white and corn flour lightly.
Add in the castor sugar gently and whisk tilll stiff.
Fold in the yolk mixture that was done previously.
Bake it at 180C, low shelf for 10 mins and then lower the temperature to 160C and bake for another 50mins.
Turn the cake tin upside down and cool the cake for 1 hour.