Sink your teeth into Japanese Vanilla Chiffon Sponge Cake topped with glorious Durian Cream that will leave you wanting for more!
Cuisine : Baking Course : Dessert Skill Level : Novice
Prep : 20 mins Cook : 35 mins
Ready in : 55 mins Serves : 8 inch round pan
---
INGREDIENTS:
Ingredients for Japanese Vanilla Chiffon Sponge
Group A
80g Yolks (Around 5 eggs)
15g Sugar
60g Sunflower Oil
80g Cake Flour
1/8 tsp Salt
Group B
150g Egg Whites (Around 5 eggs)
Ingredients for Durian Creme
Group A
450g Freshly Peeled Durian Meats – Blend it slightly
40g Full Cream Milk
Group B
90g Soft Peak Whipped Dairy Cream (whip first before measuring)
Ingredients for Sugar Syrup
30g Fine/ Castor Sugar
90g Water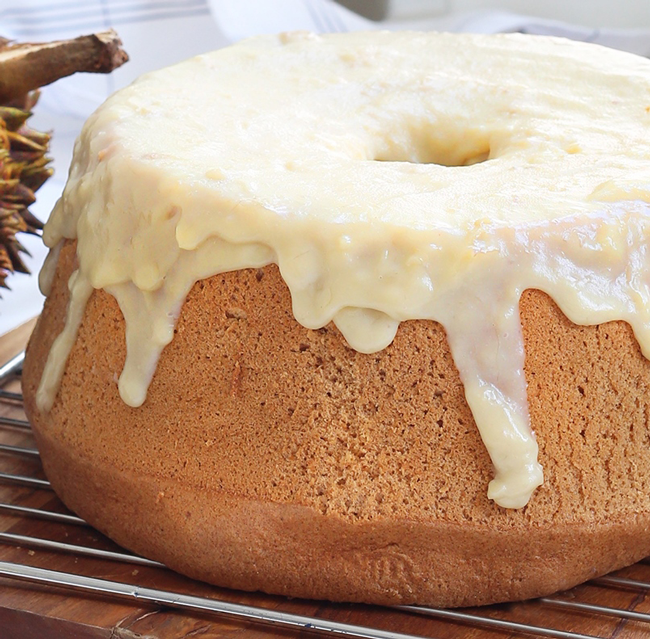 DIRECTIONS:
To make the Japanese Vanilla Sponge Cake, follow steps 2 to 7.
Preheat oven to 180 degree Celsius.
Stir and mix in Group A until combine.
Whip Group B until stiff peak forms.
Fold and combine Group A and B.
Bake for 25 mins at the middle rack of the oven (non-fan mode).
NOTED: – Do not over fold the batter as the cake will taste dense due to the deflation of the batter Plain cake can be kept in the fridge for 3 days only as there are no preservatives being used.
To make the Durian Cream, follow steps 9 to 11.
Cook Group A over low heat until warm.
Cool the durian mixture over a bowl of iced water.
Whisk in the soft peak dairy cream to the mixture and chilled until for later use.
To make the Sugar Syrup, follow steps 13 to 15.
Mix the sugar and water and cook until sugar is melted.
Leave cool before using.
To assemble the cake, follow steps 16 to 24.
Slice the sponge into 3 equal layers.
Place the sponge (with skin face down) on the cake board.
Tab on some sugar syrup and layer with durian crème.
Add on the second layer of sponge and tab on some sugar syrup.
Layer with the final coat of durian crème.
Top with the final layer of sponge and tab on some sugar syrup.
Coat the whole cake with whipped non-dairy cream.
Topped with cake cubes and sprinkle with generous dose of icing sugar.
Serve chilled.