For a light and easy-to-make dinner, this Cod in Miso Broth with Deep Fried Shimeiji Mushroom is the perfect dish!
Cuisine : Fusion Course : Main Skill Level : Novice
Prep : 5 mins Cook : 40 mins
Ready in : 45 mins Serves : 4
---
INGREDIENTS:
150g-160g per pc Cod fish
1 big pc Kombu (seaweed)
1 handful Bonito flakes (katsuobushi)
2 tbsp Miso paste
4 pcs Green asparagus
20g Shimeiji Mushrooms
1 Egg white
4 tbsp Semola Flour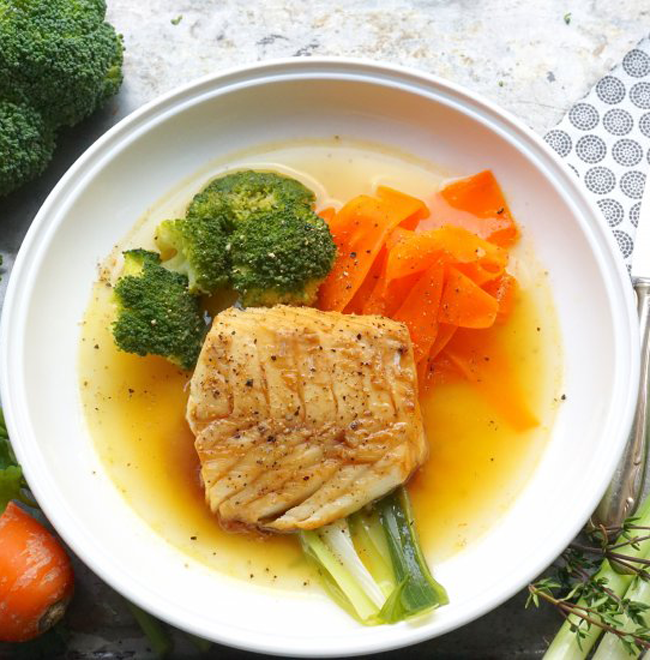 DIRECTIONS:
Heat up a pot of boiling water.
Add in the bonito flakes and kombu, simmer the water for about 15 minutes to 20 minutes.
Strain the stock and add in the miso paste.
Add in the cod fish, asparagus and simmer it for about 8 to 10 minutes.
In the meanwhile, heat up a pot of oil to 180 to 190 degrees.
Lightly whisk the egg white and then coat onto the mushroom, lightly dust over with semola flour and deep fry it.
Once the cod fish is ready, transfer the fish and asparagus to another bowl, pour in the remaining stock just enough to cover half of the fish.
Lastly place the crispy shimeiji mushroom on top the fish and drizzle with extra virgin oil and garnish with micro herbs.