Relish this savoury dish of Duck Confit with rich red wine reduction topped with Foie Gras and Truffle Jam.
Cuisine : European Course : Main Skill Level : Novice
Prep : 20 mins Cook : 60 mins
Ready in : 80 mins Serves : 2
---
INGREDIENTS:
2 pcs Duck Legs
Rock Salt
Salt & Pepper
Duck Fat and/or Olive Oil
¼ cup Shallots, minced
½ cup Red Wine
½ cup Beef Stock
2 tbsp Butter
1 tbsp Rosemary, chopped
2 pcs Foie Gras
Fleur De Sel
Cracked Black Pepper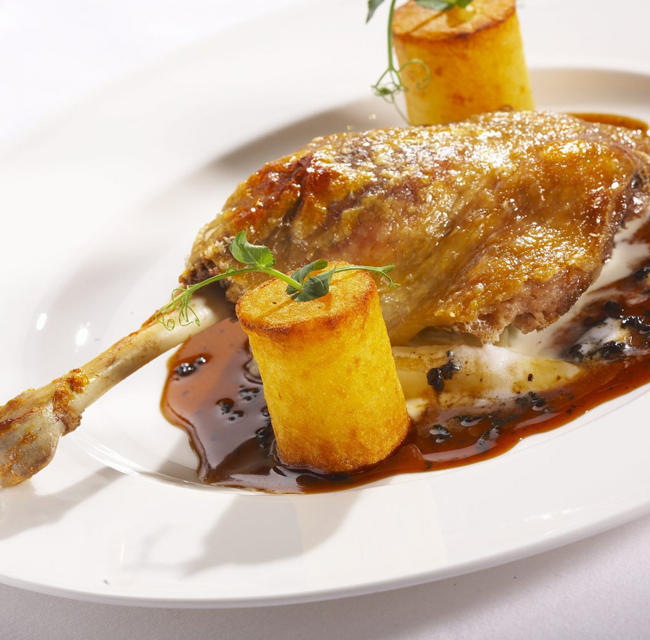 DIRECTIONS:
To make the Duck Confit, follow steps 2 to 7.
Pat the duck legs dry with paper towels. Find a needle or a very pointy knife and prick the skin of the duck all over. Focus on the skin that covers fat. Do your best to avoid piercing the meat itself by pricking the skin at an angle over the drumstick and the center of the thigh. You are doing this to give the fat that lies under the skin a place to seep out – if you don't do this, it will be far more difficult to get crispy skin.
Put the duck legs in a small casserole, skin side up. How small? You want it just big enough to hold the legs. Put a thin sheen of oil or melted duck fat on the bottom of the casserole, then place the duck legs in close together but not overlapping.
Preheat oven to 140C. Bake until very tender and just beginning to fall from the bone.
Remove duck legs from fat / oil and allow fat to cool.
Turn oven 190C to crisp up skin -Top part and Pan Fry to crisp up the bottom part.
Reserve the pan for glaze.
To make the glaze, follow steps 8 to 11.
In a sauté pan, over medium high heat, add enough olive oil to coat the pan.
Add shallots and cook until translucent.
Add the red wine and the stock to reduce by half.
Add butter and chopped rosemary.
To make the Foie Gras, follow steps 13 to 16.
In a very hot pan sear piece of Foie Gras 2 minutes a side, sprinkle with Fleur de Sel and a tad of black pepper after turning to the second side.
Truffle jam & truffle oil to garnish.
Assemble duck confit, then top with Foie Gras, and drizzle with truffle jam and red wine reduction.