Enjoy a delicious bowl of Wanton Noodles served with dark soya sauce, topped with wanton and barbecued char siew will leave you wanting more.
Cuisine : Asian Course : Main Skill Level : Novice
Prep : 20 mins Cook : 40 mins
Ready in : 60 mins Serves : 4
---
INGREDIENTS:
Ingredients for Wanton
2 Wanton wrappers
150g Fatty pork mince (or chicken mince)
3 Prawns deskilled
1 Dried shiitake mushroom
1 tbsp Corn flour
Pinch of Salt
Ingredients for Char Siew Pork
1/2 Pork belly (2 without skin)
3 tbsp Sugar
1/2 tbsp Light soya
2 tbsp Water
1 little of Dark soya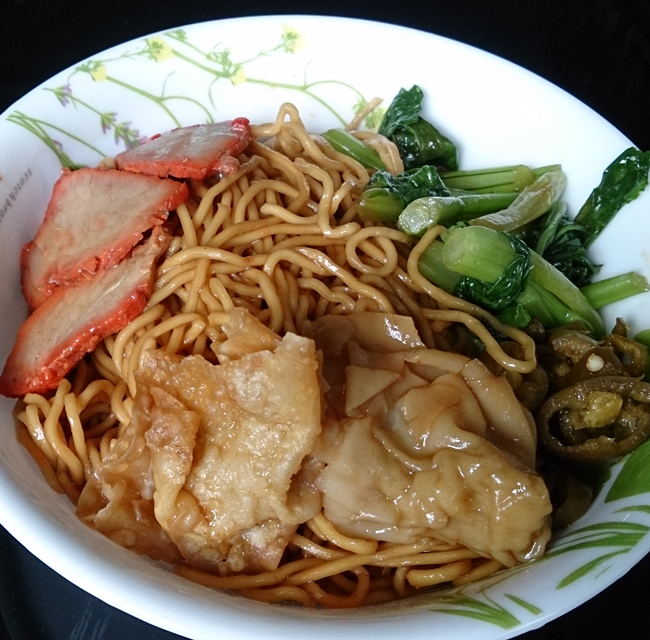 DIRECTIONS:
To make Wanton, follow steps 2 to 9.
Place the shrimp, tsp corn flour and pinch of salt and marinate for a few minutes.
Rinse the shrimp and dry with kitchen paper and leave to dry in the fridge.
Mix the marinate ingredients and marinate the mix.
Soak mushroom in hot water until softened then rinse before dicing finely.
Add mushrooms and chestnuts to the marinated mix.
Add 1 tbsp of corn flour.
Add shrimp.
Wrap in wanton wrapper.
To make Char Siew, follow steps 11 to 14.
Pour whole bowl of marinate with pork in fry pan until marinate thickens, then transfer to baking tray to grill until cramelise (15-30m).
Allow to cool then cut in thin strips.
In chicken broth, cook the wanton, then add Blanche vegetables to bowl.
Add dark soya OR oyster sauce with noodles, blanched vegetables and wanton roast pork.