A smooth and creamy pumpkin soup topped with parmesan croutons is delicious as an easy weeknight meal.
Cuisine : European Course : Appetizer Skill Level : Novice
Prep : 20 mins Cook : 35 mins
Ready in : 55 mins Serves : 2
---
INGREDIENTS:
Ingredients for Parmesan Croutons
2 slices of Bread
1/4 cup Parmesan cheese
4 tbsp Extra-virgin olive oil
Ingredients for Pumpkin Soup
1/2 no White onion, diced
4 tbsp Olive oil
2 cloves Garlic, minced
200g Pumpkin puree
250ml Vegetable stock
1 tbsp Honey
2 tsp Sea Salt
1/4 tsp Nutmeg powder
1 cup Dairy cream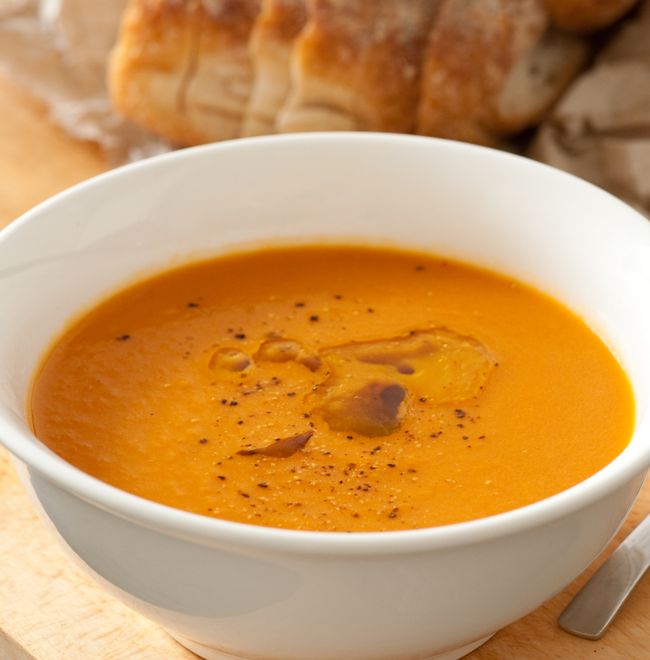 DIRECTIONS:
To make the Parmesan croutons, follow steps 2 to 5.
Preheat the oven to 200°C.
On a parchment-line baking sheet, toss the bread with 4 tablespoons olive oil and the Parmesan cheese.
Arrange in an even layer. Bake until golden brown and crispy, about 15 minutes.
Set aside.
To make the pumpkin soup, follow steps 7 to 14.
Heat the oil in a stockpot.
Sauté the onion over medium-high heat until soft, about 5 minutes.
Add the garlic, and continue to cook until fragrant, about 2 minutes.
Carefully stir in the pumpkin, stock, honey, salt and nutmeg.
Bring to a boil, then turn the heat to medium and simmer for 20-25 minutes, until the soup coats the back of a spoon.
Remove from heat, stir in the cream.
Remove from heat, stir in the cream. Puree using an immersion or stand blender until very smooth.
Serve the soup in bowls and garnish with the Parmesan croutons.