Butternut Squash Creamy Soup with Parmesan Ciabatta Crostone and Crispy Sage
By Daniele Sarno
What could be more delicious than this simple homemade butternut squash soup that is smooth and silky!
Cuisine : European Course : Appetizer Skill Level : Novice
Prep : 10 mins Cook : 50 mins
Ready in : 60 mins Serves : 12
---
INGREDIENTS:
3kg Butternut squash
3L Vegetables stock
12 slices Ciabatta bread
2 Peeled carrots
2 Celery sticks
1 Peeled red onion
2 cloves of Garlic
Extra Virgin olive oil
24 Sage leaves
Sea salt
Freshly ground black pepper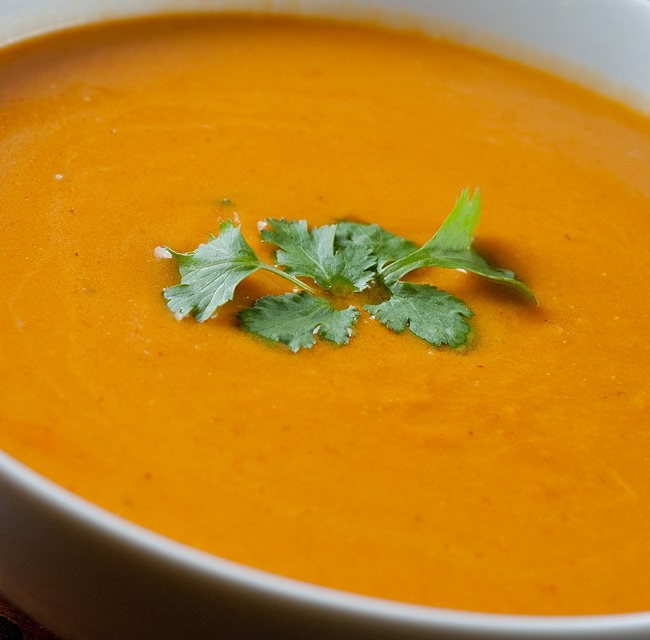 DIRECTIONS:
Put a very large saucepan on a medium heat and pour in a couple of lugs of olive oil.
Add the sage leaves a fry for around 30 seconds or until crisp, quickly remove them and place to dry in a kitchen paper. (You will use these to sprinkling over at the end).
Use the same sage flavoured oil, put it back on the heat and throw in your onion, celery, carrot, garlic and a good pinch of salt and pepper.
Cook gently for about 10 minutes until the vegetables are sweet and soft.
Add the squash and the stock to the pan bring to the boil and simmer for around half an hour.
Drizzle a little of olive oil in your ciabatta slices, press on the top same grated parmesan and fried in a pan for a couple of minutes until golden on both side.
When the squash is soft and cooked through, pour the soup with a hand blender until smooth and creamy texture. Season it.
Sprinkle with a few crispy sage leaves and drizzle with a good quality extra virgin olive oil.