Nothing beats local. Sink your teeth into this moist and soft Chendol Talam Cupcakes by Chef Mimi.
Cuisine : Baking Course : Dessert Skill Level : Novice
Prep : 15 mins Cook : 35 mins
Ready in : 50 mins Serves : 6-8
---
INGREDIENTS:
Ingredients for Cupcakes
120gm Self-Rising Flour
90gm Cake Flour
115gm Unsalted Butter – cold
200gm Fine Sugar
120gm Whole Eggs
110gm Coconut Milk
Ingredients for Talam Frosting
200gm Coconut Milk
300gm Pandan Water (Boil panda n leaves in 90gm water)
40gm Gula Melaka
Hoon Kueh Flour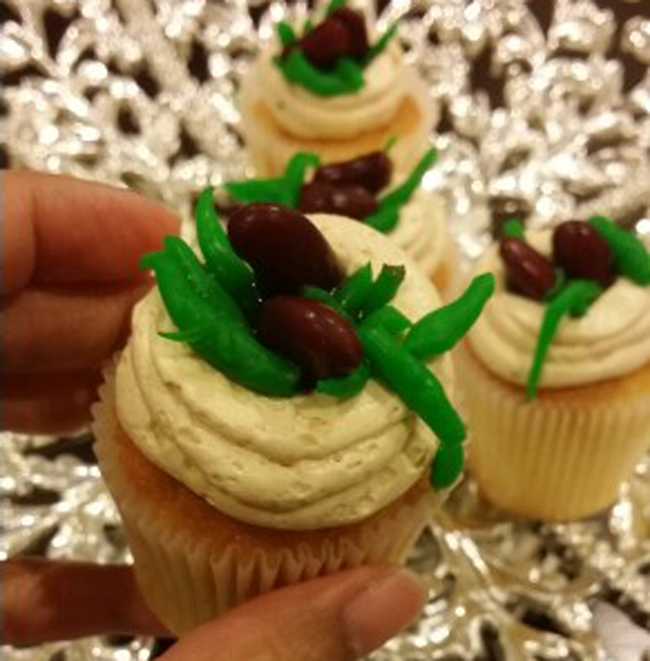 DIRECTIONS:
To make the cupcakes, follow steps 2 to 12.
Pre heat the oven to 180 deg.
In a mixing bowl fitted with paddle, combine both sifted flour.
Start mixing on the low speed and add small cubes of the butter gradually till mixture resembles sand.
Whisk the eggs and add half to the mixture.
Combine he coconut milk and the rest of the egg.
Add to the mixture and beat until smooth texture is achieved.
Fill each cupcake case to 60 gm each.
Bake in the pre-heated oven for approximately 20-25 mins.
To check for doneness, insert a toothpick in the centre of the cupcake.
The toothpick should come out clean when it is ready.
Cool down before frosting.
To make the Talam Frosting, follow steps 14 to 19.
In a bowl, combine coconut milk and hoon kueh flour. Sieve.
In a pot combine the pandan water and gula Melaka and gently heat up.
When the mixture boils, add the coconut and hoon kueh flour mixture.
Whisk vigorously until mixture boils.
Cool slightly and scoop mixture on top of each individual cupcake.
Decorate with Green Chendol and Red Bean. Drizzle with gula Melaka syrup.