This Country Style Strawberry Tart is a great summer dessert that tastes perfect with a dollop of cream cheese.
Cuisine : Baking Course : Dessert Skill Level : Novice
Prep : 30 mins Cook : 25 mins
Ready in : 55 mins Serves : 6-8
---
INGREDIENTS:
Ingredients for Sablee
200g Flour
100g Butter
70g Sugar
1 Egg
4g Salt
Ingredients for Strawberry Compote
300g Strawberries
100g Sugar
100g Water
50g Butter
20ml Lemon Juice
Ingredients for Garnish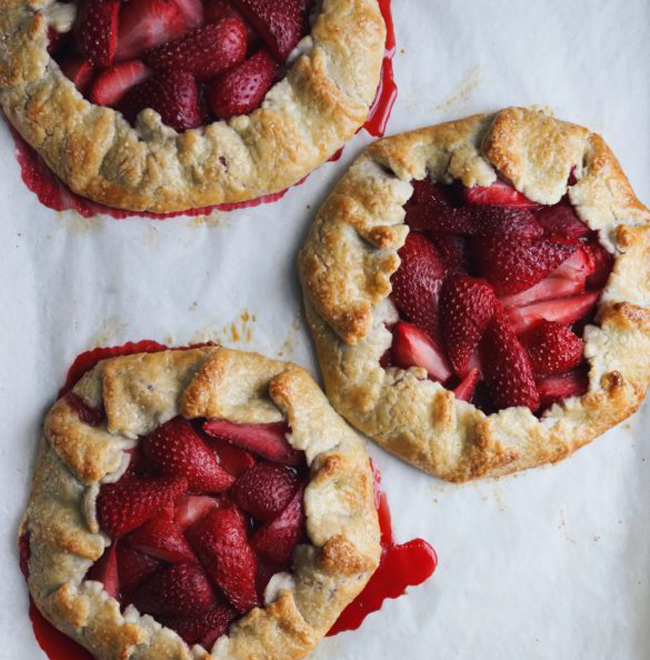 DIRECTIONS:
Make the dough by adding butter, flour, salt and sugar into the bowl and mix in an electric mixer with a pedal till consistency of sand.
Add egg and mix till consistent. Wrap and flatten in cling film and reserve in the fridge for 20 minutes.
Cut the strawberries into half and cook in water, sugar, butter and lemon juice till soft but not mushy.
Roll out the dough in a round shape and trim off the ends to make a nice edge.
Mound in centre of dough, leaving 1 1/2-inch border over filling.
Pleat the dough loosely and pinch any cracks to seal and bake it in a 175°C oven for 12 minutes till golden brown.
Garnish with icing sugar.