Learn to bake this show-stopping Normandy Pear Tart from scratch with Chef Weixian for the perfect finish to your meal!
Cuisine : Baking Course : Dessert Skill Level : Novice
Prep : 40 mins Cook : 45 mins
Ready in : 85 mins Serves : 6-8
---
INGREDIENTS:
Ingredients for Mealy Dough
200g Plain Flour / Cake Flour
4g Salt
20g Sugar
100g Cold Butter
50g Egg
5g Water
Ingredients for Almond Cream
60g Butter
60g Sugar
60g Almond Flour
10g Plain Flour
50g Egg
Topping for Pear Tart
350g Pear in syrup
20g Almond Flakes
As Needed Apricot Glaze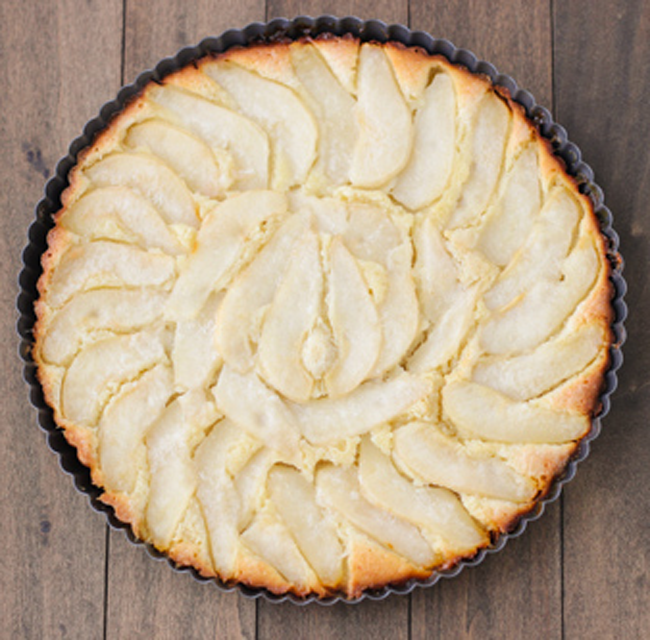 DIRECTIONS:
To make the Mealy Dough, follow steps 2 to 6.
Mix flour with salt and sugar together.
Cut the cold butter into the flour mixture.
Work the mixture between the palms to achieve a mealy texture.
Add the egg and water, mix until the mixture becomes a ball.
Place the dough on the table and crush with your palm, bit by bit, cover with clingfilm and keep in the chiller for minimum 20mins.
To prepare the Almond Cream, follow steps 8 to 17
Cream the butter and sugar until pale.
Add the almond flour and plain flour. Mix well.
Add the egg and mix well.
Roll out the dough to desired thickness (2mm).
Mould into tart ring.
Spread the almond cream into the tart shell.
Place the slices of pear and almond flakes on top of the almond cream OR line the entire tart with thin slices of green apples.
Bake in the oven at 180ºC for 45mins.
Transfer to grill and cool completely.
Melt the apricot glaze and glaze the top of the tart.