Try serving this velvety and luscious Chocolate Fudge Cake for an unforgettable dessert!
Cuisine : Baking Course : Dessert Skill Level : Novice
Prep : 30 mins Cook : 30 mins
Ready in : 60 mins Serves : 8″
---
INGREDIENTS:
Ingredients for Group 1
120g Cake Flour
40g Cocoa Powder
2 tsp Baking Powder
1/2 tsp Baking Soda
1/2 tsp Salt
Ingredients for Group 2A
75g Egg Yolk
40g Castor Sugar
Ingredients for Group 2B
1.5 tbsp Corn Syrup
80g Warm Oil
100g Hot Water
Group 3
190g Egg White
90g Castor Sugar
1/2 tsp Cream of Tartar
Ingredients for Chocolate Fudge
300g Whipping Cream (35% Milk Fats)
100g Dark Couverture Chocolate 66%
200g Milk Couverture Chocolate 55%
2 tsp Gelatine Powder
40g Water
1 1/2 Corn Syrup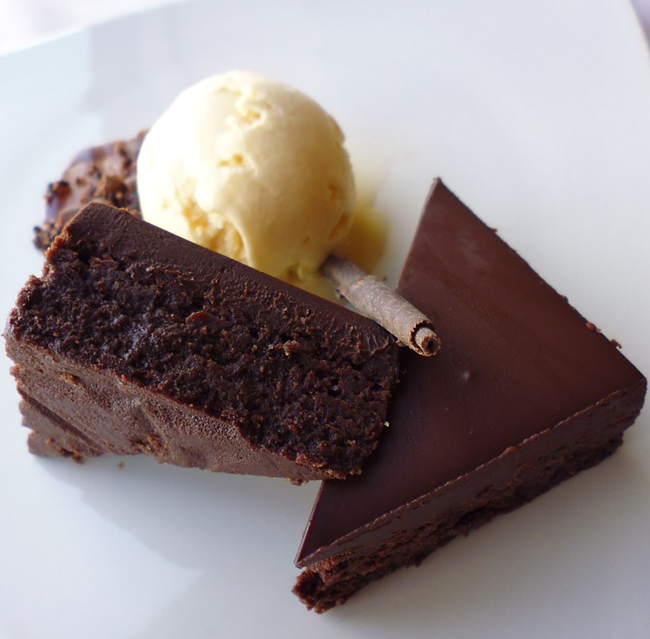 DIRECTIONS:
Group 1 – Mix the dry ingredients & Sift.
Group 2A – Whisk egg yolk & sugar till pale & thick.
Group 2B- Add in corn syrup, hot oil. Then pour in hot water gradually & whisk into egg mixture.
Group 1 – Sift flour & fold into the egg-yolk mixture till well combined.
Group 3 – Whisk egg white & add in sugar & cream of tartar.
Fold into the egg-yolk mixture in 3 portions.
Pour into prepared cake tin & baked at pre-heated oven for 30-35mins.
For Chocolate fudge, follow steps 9 to 12.
Bloom gelatin with the water & dissolve in bain-marie method.
Boil cream & do an emulsification with the chocolate.
Add in gelatin & mix well.
Add in corn syrup.