Enjoy these mouth-watering Baked Char Siew Puff with sweet char siew fillings and flaky puff pastry.
Cuisine : Asian Course : Appetizer Skill Level : Novice
Prep : 110 mins Cook : 35 mins
Ready in : 145 mins Serves : 10 pieces

---
INGREDIENTS:
Ingredients for Pastry
200g Flour (Group A)
60g Butter- use salted butter (Group A)
25g Sugar (Group A)
120ml Water (Group A)
160g Flour (Group B)
100g Shortening/ lard for best results (Group B)
Ingredients for Filling
200g Pork or Chicken meat, cut into tiny cubes.
1 Small Onion
Ingredients for Seasoning
1 tsp Salt
1 tbsp Sugar
1 tbsp Oyster sauce
1 tsp Light Soy Sauce
1 tsp Dark Soy Sauce
1 tsp Sesame Oil
1/2 tsp White Pepper
Pinch of Five Spice Powder
Some Water
Ingredients for Gravy
1/2 tbsp Corn Starch
1 tbsp Water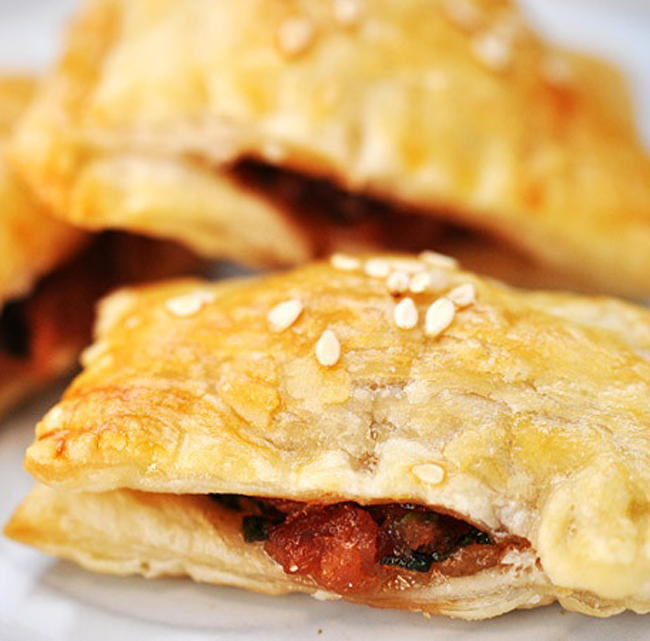 DIRECTIONS:
For the pastry, follow steps 2 to 13.

Mix well flour and butter of pastry (A), then add in sugar and water. Knead into dough (A)

Mix well pastry (B), knead to a dough (B).

Leave dough (A) and (B) for 30 min.

Divide the both dough into 20 equal pieces.

Wrap the dough (B) into dough (A) and flatten it.

Roll the dough into long flat piece and roll it up like Swiss roll.

Put the dough 90C and roll into flat again and roll up like Swiss roll again.

Put it in fridge for 30 min.

Place 1tbsp filling on the dough.

Wrap into a book fold.

Brush some egg fluid on surface. Put some sesame seed on top.

Bake for 20-25 min at 180C. Glaze with golden syrup and bake further for 5 mins.

For Char Siew Fillings, follow steps 15 to 21.

Heap up some oil, sauté onion till fragrant.

Add in the meat and fry for a while.

Add in seasoning and some water.

Fry until a bit dry up.

Add in gravy.

Turn off the heat and remove.

Leave to cool.