Transform your everyday breakfast cereal into a dainty Cereal Milk Panna Cotta that is deliciously light and creamy.
Cuisine : Baking Course : Dessert Skill Level : Novice
Prep : 5 mins Cook : 50 mins
Ready in : 145 mins Serves : 3-4
---
INGREDIENTS:
Ingredients for Panna Cotta
1) 3 cups Corn flakes-toasted
2) 250ml Milk
3) 250ml Dairy cream
4) 1/2 tsp Sea salt
5) 30g Light brown sugar
6) 15g Fish gelatin powder
Ingredients for Toppings
7) 25g Corn flakes
8) 20g Milk powder
9) 1 tbsp Granulated sugar
10) 1/2 tsp Sea salt
11) 100g Unsalted butter, melted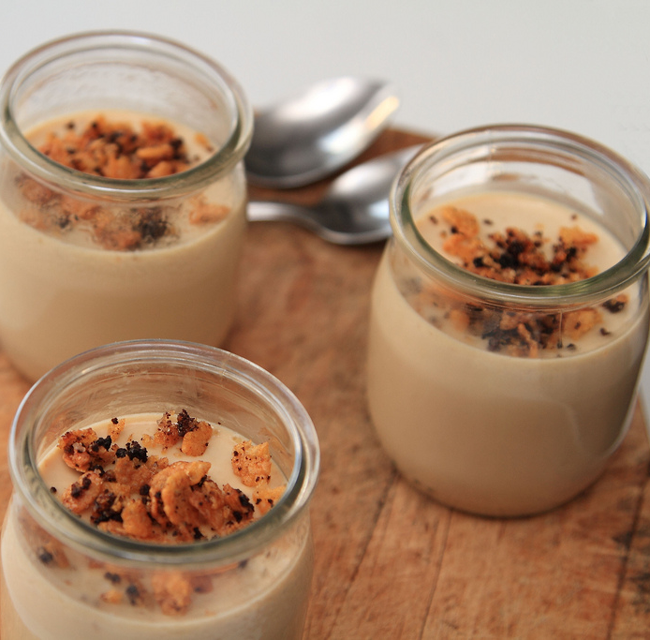 DIRECTIONS:
To make the Panna Cotta, follow steps 2 to 10.
Heat oven to 160 degree C.
Spread cereal on a baking sheet and bake until toasty, about 12 minutes.
While still warm, transfer to a pot and add milk and cream. Stir to combine and gently warm up for 10 mins.
Strain into a bowl or a saucepan, pressing to extract liquid. Discard soggy cereal.
Add salt and brown sugar, and heat just until milk is hot enough to dissolve sugar, Stir gently to dissolve sugar.
Ladle some milk mixture into a small bowl and mix in gelatin.
Set aside 5 minutes, then whisk soaked gelatin back into remaining milk mixture.
Divide mixture among cups.
Refrigerate until set, about 1.5 hours.
To make the toppings, follow steps 12 to 20.
Heat oven to 160 degrees.
Place cereal in a large bowl and crush lightly with your hands.
In a small bowl, stir together milk powder, sugar and salt.
Sprinkle mixture over crushed flakes and add melted butter.
Toss to coat cereal evenly.
Spread on a baking sheet lined with parchment paper (or a nonstick baking mat) and bake 20 minutes, or until deep golden brown.
Remove from tray and set aside to cool.
Sprinkle cold panacotta generously with corn flake topping.
Serve immediately or store in an airtight container up to 1 week.