Originating in Burgundy, these delicate gougères will wow any guest. These little French cheese puffs are made with Gruyère or Parmesan cheese and can be served before dinner, with wine, or set out at a party. We made a little local twist here by adding bits of Bak Kwa, the savoury sweet taste of BBQ pork will elevate these treats to the next level!
Cuisine: French Course: Appetiser
Skill Level: Novice
Prep: 20 mins Cook: 20 mins
Ready in: 40mins  Serves: 30pcs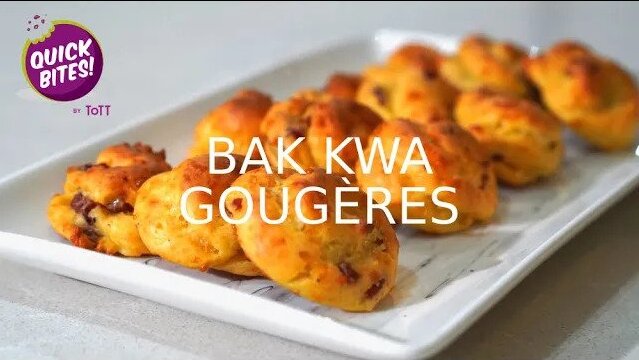 INGREDIENTS
60g Unsalted Butter (Room Temperature)
8 tablespoons unsalted butter
1/2 cup milk
1/2 cup water
1/2 teaspoon salt
1/4 teaspoon black pepper
1 cup all-purpose flour
4 eggs (room temperature)
6 ounces Gruyere cheese (grated)
2-3 pcs Bak Kwa (BBQ Pork Jerky)
DIRECTIONS:
Preheat oven to 220°C. Line two baking sheets with silicone baking mats or parchment paper.
Place the butter, milk, water, salt, and pepper in a medium saucepan and bring to a boil over medium-high heat. Add all of the flour at once, reduce heat to medium-low and stir with a wooden spoon until the mixture forms a ball and appears to dry out (a film or "crust" will develop on the sides and bottom of the pan), another 2 to 3 minutes.
Immediately place the dough into a mixing bowl and beat on low until it stops steaming and is just warm to the touch, approximately 1 minute.
Increase mixer speed to medium and add the eggs, one at a time, beating well after each until fully incorporated and scraping the sides and bottom of the bowl as needed. Add the cheese and bak kwa and mix until thoroughly combined, about 1 minute. The final dough will appear smooth, creamy, and shiny.
Transfer the dough to a pastry bag fitted with a large round piping, and pipe 1-2 tablespoons of dough onto the prepared sheets. Alternately, use a medium cookie scoop, drop the dough onto the prepared baking sheets, leaving 2 inches between them. You can wet your hands and gently smooth out the scoops, if you'd like.
Bake for 10 minutes, reduce oven temperature to 200°C, and continue to bake until puffed and golden brown, an additional 5 to 10 minutes. Allow to cool for at least 5 minutes, then serve warm or at room temperature.