Make your very own pesto and serve it with pasta and prawns!
Cuisine : European Course : Main Skill Level : Novice
Prep : 10 mins Cook : 15 mins
Ready in : 25 mins Serves : 2 servings
---
INGREDIENTS:
Ingredients for the Pesto
1 2/3 cup Fresh Basil Leaves
2 tbsp Pine Nuts
1 large clove Garlic – peeled
Kosher salt and freshly group black pepper
1/4 cup Extra Virgin Olive Oil – more for storing
1/2 cup Parmesan Cheese
Ingredients for the Pasta
8 Frozen prawns – thawed
1/2 cup Pesto
Pasta to serve two
1 tbsp Parmesan Cheese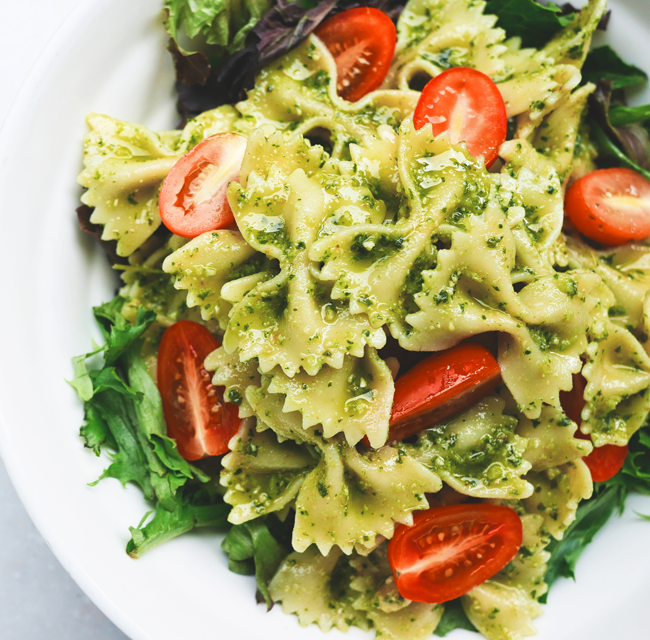 DIRECTIONS:
To make the Pesto, follow steps 2 to 5.
Pulse the basil, pine nuts, garlic and 1/3 tsp of salt with a pinch of pepper in a food processor until finely chopped.
With the motor running, slowly pour the olive oil into the feed tube and process, stopping to scrape the sides of the bowl as needed, until the mixture forms a thick paste.
Transfer to a medium bowl and stir in the Parmesan cheese.
Season to taste with more salt and pepper.
To make the Pasta, follow steps 7 to 10.
Add the penne to the pot of boiling water and cook according to the package directions. Reserve 1/2 cup of the pasta water and then drain the pasta.
Add prawns into a pot of salted boiling ware for three minutes and drain.
Heat a skillet and add the cooked pasta, prawns and toss with the pesto.
Place the top with parmesan before serving.