Treat yourself to this delicious yet easy-to-prepare Steam Sea Bass with Taiwanese Sea Berries that will excite your palate!
Cuisine : Asian Course : Main Skill Level : Novice
Prep : 10 mins Cook : 15 mins Ready in : 25 mins Serves : 4

---
INGREDIENTS:
Sauce
4 tbsp Oil for cooking
1 tbsp Chopped Garlic
4 tbsp Taiwanese Tree Berries +pickling juice
1 tbsp Taiwanese Soya Sauce
1 tsp Sugar
200ml Water
Assembly
4 pcs Kuhlbarra Seabass, Fillets (or 1 whole fish~700g)
Salt
20g Ginger Slices
Spring Onions for Garnish
4 pcs Baby Cabbage, blanched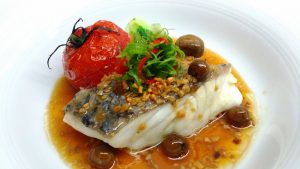 DIRECTIONS:
Heat oil in pan, sauté garlic till fragrant. Add the tree berries and rest of ingredient for sauce. Bring to boil and set aside.
Season seabass fillet with salt. Place ginger over the fish fillets and steam for 7-8minutes over high heat.
Serve steam fish with tree berries sauce, garnish with spring onions and blanched baby cabbages.