1) How is silicone ware comparable to conventional ones?
Long-lasting: Silicone ware will not get out of shape, rust or break easily. Although its existence in the market has not been long enough to provide evidence about its durability, we do know that silicone is not biodegradable by nature. It is worth noting that some metal bakeware such as sheet aluminium does rust in the long run.
Thermal durability: Similar to other bakeware, silicone can also withstand cold and hot temperatures from between -40°C to +260°C. You can take it out from the freezer and put it into the oven immediately without a hitch.
Non-stick properties: Food can be easily removed without initial greasing, which is similar to non-stick bakeware. However, some users claim that this non-stick ability wears off after constant use in the oven over a long period of time.
Maintenance: Run it under hot water and wipe with a soapy cloth. Most silicone wares are also dishwasher safe and easy to clean as any conventional bakeware.
2) Is silicone safe?
The silicone used in cookware products is a type of inorganic elastomer which will not fume when in contact with high heat. Silicone tools made of 100% silicone is generally safe for cooking. Some low quality silicone wares include fillers in its composition, which can affect durability and release fumes and leach onto food items. Always check the manufacturer's label before making a purchase.
3) What are the cons of using silicone cookware?
Too flexible: Silicone ware can be rolled or folded easily which makes storage effortless. However, this could also mean that your silicone cake mould and muffin trays might bend too much, causing fresh bakes to crumble or cake mixtures to spill over. If possible, let your silicone ware sit over a metal tray for better support.
Browning: There is minimal browning of your bakes when using silicone ware unlike traditional baking trays or tins.
Baking duration: Due to the differences in heat conduction with conventional aluminium or steel trays, you might need to adjust your baking timing as Silicone usually takes longer.
Static and dust: Silicone gradually builds up static electricity which causes the cookware to attract dust.
Cutting tools: Generally, silicone ware is coated with a layer of fibreglass. Avoid using sharp tools on your silicone ware to prevent cuts which could cause fibreglass contamination.
Buy only trusted brands. Pure silicone does not change colour when twisted. To check for fillers in silicone wares, pinch and twist a flat surface on the item. If white shows through, it is quite likely the product contains fillers.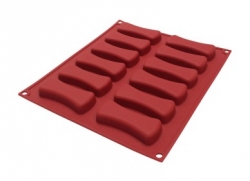 Established in the UK in 2010 initially as heart-healthy food website, The Cooking Doctor offers premium quality silicone bakeware, to make your baking more fun. Each product is designed with novice as well as professional bakers in mind. Bake healthy cakes, macarons and cupcakes using these silicone products.