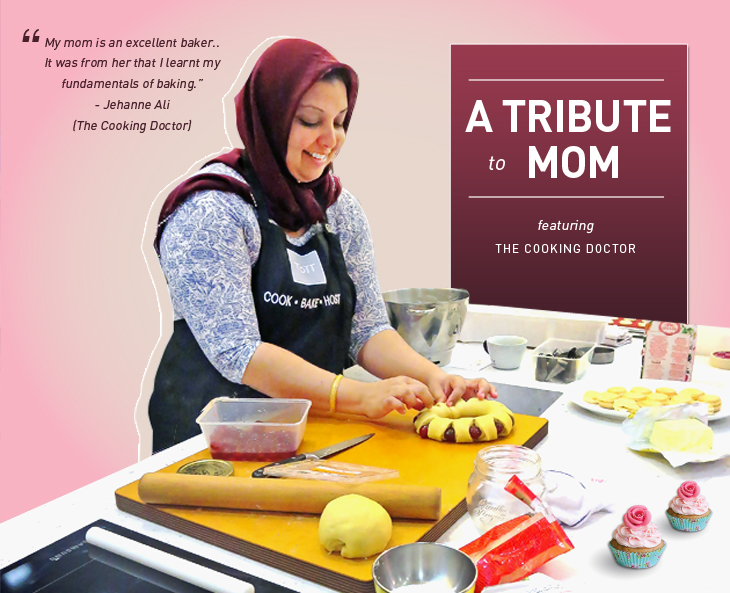 It's always fascinating to learn where a chef first got her roots in cooking.
This Mother's Day, we invite The Cooking Doctor, Dr Jehanne Ali to give us a peek into her life and how she manages being a Mother, Chef and Doctor all at once!
1. How has your mother's cooking influenced you as a chef?
Food always brings back memories. Little did I know that those years growing up watching my mom tempering chocolates, or running back eagerly from school for the sweet smell of cookies baking in the oven, would shape my passion today. My mom is an excellent baker, who also taught on continental pastries and cakes. It was from her that I learnt my fundamentals of baking.
2. Are there any particular dishes that instantly remind you of Mom?
When I was in medical school in the UK, cooking was not a luxury but a necessity as the halal food scene has not really taken off, like now. I missed my mom's Sambal chicken, so every time I cooked that for a meal, it instantly reminded me of her. I am also a big fan of her Chocolate Roulade (swiss roll) so she would always baked and carefully packed for me every time I came home for vacation. Those swiss rolls still remind me of home. My mom has kindly shared the recipe with me, so here I am passing it to you. (Recipe here)
3. Would you be able to share a particular fond memory of when she cooked it?
There was one afternoon when I just came back from school and I saw Mom making her chequered swiss rolls for friends. I must be around 8 or 9, and I sulked that she has forgotten to make my favourite roll. That was when she pulled out the fluffiest roll still warm on the pan, and asked me to spread the melted chocolate on top. I was ecstatic, as that was perhaps the first time she ever let me use her kitchen tools!
4. Being a mother (chef and doctor, too!) yourself, what advice would you give to busy working moms who want to start cooking for their kids?
I am glad to see the current trend of kids being encouraged to cook and bake from early age. I think it's important to shape the young minds to start eating healthy and wholesome home-cooked food. Even with a busy schedule I think it's still possible to fit in cooking time after work. Weekly menu planning is essential as it will help to expedite grocery shopping and preparation.
I am also a firm believer in quick healthy meals. For example, with a weekly batch of pizza dough you can always create weeknight pizza in less than 20 minutes! Kids should be allowed to help in the kitchen as this will build their confidence, and make them want to eat more as they have cooked the food!
Always stock up the pantry with wholesome ingredients and kid-friendly tools. Think colourful spinach pasta, fancy cookie cutters or even some good quality chocolates. Best trophy to Mommies who bake impromptu brownies!
Recently I've launched a range of healthy Deli products under my daughter's name, Mishalle. These include healthy low-fat Granola for breakfast or parfait (Check out the quick & easy recipe here!), tomato relish for pizza base or pasta sauce, chilli jam for dipping sauce, multigrain bread mix for quick and healthy breads, and some spice mixes such as za'atar for your quick but delicious meals!
5. Last but not least, what do you think are some of the most essential tools to have in the kitchen for busy working moms?
I do suffer from gadgetitis, so I am a hoarder of all things gadgets! Jokes aside, a well-equipped kitchen does make a big difference in food preparation and cooking time. I swear by good-quality casseroles or dutch ovens that are perfect for pasta sauces, stews, rice and even bread. Of course my very own 'The Cooking Doctor' silicone baking mat for baking! Its nonstick fibre element makes it versatile — from kneading or rolling to even baking pizzas, macarons or scones. You also need a good set of knives, a few baking tins and a good wok!
Every mom deserves a little pampering on Mother's Day, treat mom to Dr Jehanne's Mocha Roulade and shop the essential bakeware needed for this recipe here!