Enjoy this light-as-air and crispy Yorkshire Pudding with jam and whipped cream for a perfect dessert or pair it with meat gravy for a classical savoury Yorkshire Pudding.
Cuisine : Baking Course : Dessert Skill Level : Novice
Prep : 40 mins Cook : 25 mins Ready in : 65 mins Serves : 6

---
INGREDIENTS:
3 no. Eggs
1 no. Egg white
380ml Full cream UHT milk
220g Plain flour
¼ tsp Salt
½ tsp Cinnamon powder
2 tsp Raw sugar
Pepper (optional)
Cheese/bacon bits (optional)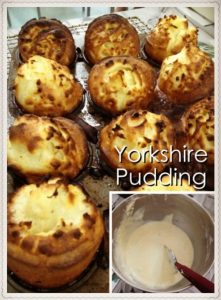 DIRECTIONS:
Whisk egg and egg white in a big mixing bowl for 5 mins.
Pour in the milk.
Add in the sifted flour and the rest.
Rest for 30 mins in fridge.
Brush tray generally with olive oil / any poultry fats. Base with 3mm oil.
Bake empty tray at 220°C till very, very hot.
Pour in mixture till almost full, you should hear the sizzling sound.
Bake at 220°C for 25mins till golden brown. Cover with paper if top is too brown after 15mins. Do not open oven too early.
Serve immediately with jam & whipped cream or pair with the meat gravy.