This decadent French parfait, bursting with ginger flavours, is perfect for entertaining. Thanks to its unique flavour note, ginger can be enjoyed with a wide range of fruits. Add a touch of orange or lemon zest to freshen your palate!
Cuisine : European Course : Dessert Skill Level : Novice
Prep : 40 mins Cook : 90 mins Ready in : 130 mins Serves : 6

---
INGREDIENTS:
125ml Whole Milk
40g Wild Ginger Flower (Bunga Kantan, sliced)
30g Ginger (grated)
3 Egg Yolks
100g Caster Sugar
250g President Whipping Cream (chilled)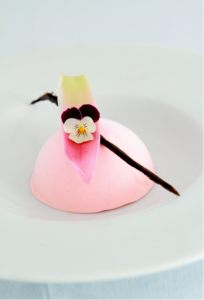 DIRECTIONS:
         To infuse milk
In a saucepan, bring the milk, wild ginger flower and ginger to a boil.

Turn off heat, cover pan with a lid, and set aside to infuse for 10 minutes.

To prepare custard

In a mixing bowl, whip the yolks and sugar until creamy. Add the infused milk, whisk to mix, then strain the mixture back into the saucepan.

Cook over low heat, stirring continuously, until mixture reaches a temperature of 83°C, or until it coats the back of a spoon. Pour immediately into a mixing bowl to stop the cooking; chill.

To prepare parfait

Whip the cold cream until thick and foamy. Add the chilled ginger custard and whip to mix well. Pipe into 7cm-diameter half-sphere moulds (preferably silicon). Freeze.

To serve

Unmould the ice cream 10 to 15 minutes before serving. Plate and decorate with bunga kantan petals. You can also serve the ice cream with strawberry, raspberry or chocolate sauce.