Surprise your guests with a fusion curry puff! Tomatoes add a freshing touch to traditonally chewy filling and mozzarella adds savoury texture and aroma of the puff that's sure to delight.
Cuisine : Fusion Course : Appetizer Skill Level : Novice
Prep : 90 mins Cook : 15 mins Ready in : 105 mins Serves : 20

---
INGREDIENTS:
Filling
2 tbsp Oil
6 Shallots (peeled and diced)
1 clove of Garlic (chopped)
200g Tomatoes (peeled, seeded and cubed)
300g Potatoes (boiled, peeled and diced)
2 tbsp Chopped Basil (to taste)
16 slices of President Mozzarella Cheese
Salt and Pepper (to taste)
Butter Dough
150g President Salted Butter (cubed)
200g All-Purpose Flour
Water Dough
¼ tsp Salt
230 ml Water
350g All-Purpose Flour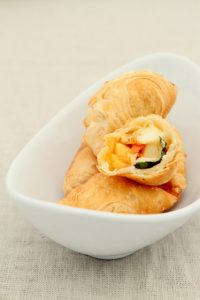 DIRECTIONS:
         To prepare filling
Heat the oil in a frying pan and sauté the shallots until transparent.

Add garlic and fry until aromatic. Add tomato and fry for a few seconds; add the potato and a bit of water. Stir to mix well.

Cook, stirring occasionally and adding water as necessary, until potato is tender. Season to taste, cool, and add basil.

To prepare butter dough

Work the butter into the flour with your fingers or a food processor to form smooth dough. Divide into four (about 85g each) and shape into balls.

To prepare water dough

Dissolve salt in the water and add to the flour gradually to form dough. Knead until smooth. Divide into four (about 85g each).

To layer dough

Flatten the water dough and wrap it around a ball of butter dough to enclose it completely. Flatten the combined dough and roll it out to form a long strip.

Roll up the strip firmly; the more thinly you roll the dough, the more revolutions you will get in the pastry, giving a greater "spiral effect". Repeat with the remaining portions of dough.

To shape

Cut each roll into 4 or 5 equal logs. Place log cut-side down and flatten into a disc – you should see a pattern of concentric circles in the dough.

Place a heaped tablespoon of filling in the centre, add mozzarella and fold over to form a crescent. Pinch the edges to form scallops.

To fry

Heat oil for deep-frying. When hot, lower heat and fry the puffs, a few at a time, until golden brown and crisp. Drain on paper towels.