An upside-down cake is a cake that is baked usually with chopped fruits seating on the bottom of the pan, then turned over so that they form a decorative topping once the cake is inverted.
Cuisine : Baking Course : Dessert Skill Level : Novice
Prep : 25 mins Cook : 35 mins Ready in : 60 mins Serves : 4

---
INGREDIENTS:
100g Sugar for Caramel
4 Apples (peeled and sliced)
160g All-Purpose Flour
11g Baking Powder
160g Unsalted President Butter (softened)
1 Large Vanilla Pod (seeds only)
120g Caster Sugar
3 Whole Eggs
2 Egg Yolks
Chantilly
200ml President Whipping Cream
40g Icing Sugar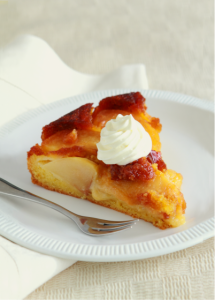 DIRECTIONS:
        To prepare caramel
Place a small saucepan on medium heat. Sprinkle a layer of sugar on the pan. Cook until golden brown and sprinkle more sugar, stirring with a spatula.

Add remaining sugar and cook until the caramel turns golden brown. Pour caramel into a 22x4cm cake pan and coat the bottom well. Arrange the apple slices in pan.

To prepare cake mixture

Sift flour and baking powder together.

In a mixing bowl, beat the butter, vanilla seeds and sugar. Add eggs and egg yolks and whisk well. Stir in the flour to form a smooth batter and pour over the apples in cake pan.

To bake

Preheat the oven to 175°C. Place the cake pan in the centre of the oven and bake for 35 minutes, or until cooked. Cool in the pan and unmould onto a plate.

To prepare Chantilly

Combine cream and icing sugar. Whisk with an electric mixer until stiff peaks form. Pipe onto cake before serving.