Warm Seared Scallops with Chickpea, Sweet Chili, Arugula and Black Truffle
By Felix Chong
These pan-seared scallops are cooked till perfection then served with chickpeas puree and topped with truffle shavings for extra depth of flavour.
Cuisine : European Course : Main Skill Level : Novice
Prep : 20 mins Cook : 10 mins
Ready in : 30 mins Serves : 4
---
INGREDIENTS:
1) 8 Fresh Scallops
2) Extra Virgin Olive Oil
3) Sea Salt
4) 200g Black Pepper
5) 1 Pre-cooked Chickpeas
6) 1 Garlic clove
7) 1 Medium Shallot
8) Black Truffle Paste
9) 1 Lemon Juice
10) Truffle Oil
11) 1 bunch of Arugula Leaves
12) Marinated Sweet Red Chili (in olive oil)
13) Fresh Black Truffle
14) Chopped Chives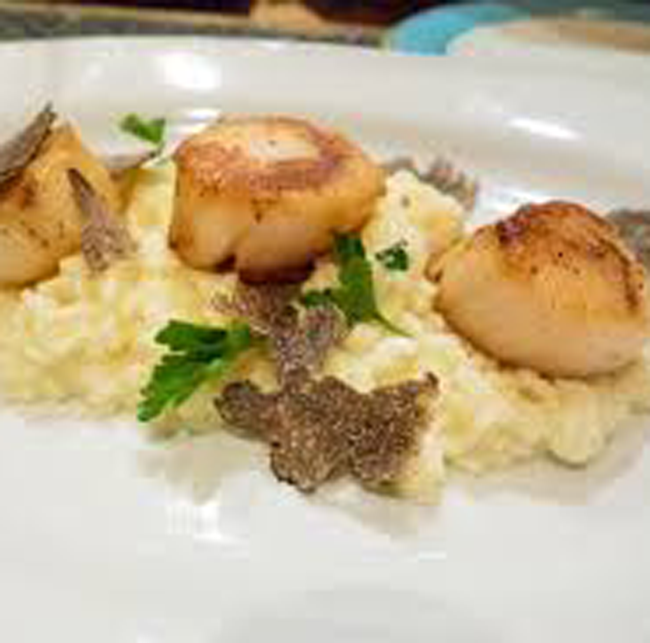 DIRECTIONS:
Season the scallops with olive oil, sea salt and crushed pepper.
Heat a frying pan and sear the scallops until light golden colour. Set it aside.
Clean the sweet chili by taking out the seeds. slice in julienne and marinate with extra virgin olive oil.
Saute the pre-cooked chickpeas for a minute with garlic clove, chopped shallots and a little bit of water.
Remove from the fire and blend them into puree together with the truffle paste, truffle oil, and a few drops of lemon juice.
Add more water if necessary for a smooth consistency. Keep warm.
Spread the chickpeas puree onto a plate.
Lay the seared scallop and finish with arugula leaves, whole pre-cooked chickpeas, marinated red chili and chopped chives.
Shave a fresh black truffle over the scallop and serve.
Tips:
A) Only sear the scallop for a minute, don't overcook them otherwise it will lose the texture.
B) Scallops with roe are also suitable for this recipe.
C) You can use dried chickpeas as well, just remember to soak them overnight.