Enjoy a delicious Japanese twist with Matcha Choc Chip Cream Scones for your next tea-time party! The chocolate chip cream will help to balance the bitterness of Matcha.
Cuisine : Baking  Course : Dessert  Skill Level : Novice
Prep : 30 mins Cook : 12-14 mins Ready in : 42-44 mins  Serves : 12 round scones
---
INGREDIENTS             
510g Self-rising Flour
50g Caster Sugar
1 tbsp Matcha Powder
115g Milk Chocolate Chips
160ml (2/3 cup) Milk
150ml Cream
1 Egg, lightly beaten
1 tbsp Milk (Extra)
1 tbsp Sugar (Extra)
To serve: Whipping Cream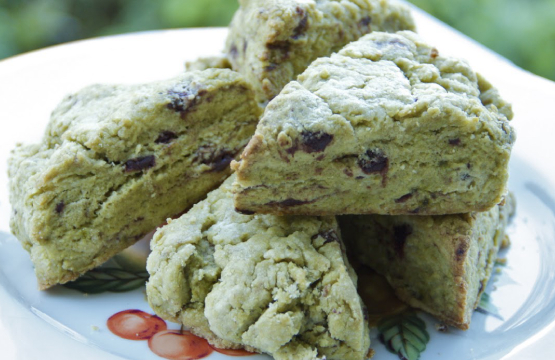 Preheat the oven to 200ºC.
DIRECTIONS
Combine the flour, sugar, matcha powder and chocolate chips in a large bowl.
Whisk the milk; cream and egg together until mixture is combined then add the cream mixture to the flour mixture. Stir gently with a wooden spatula until everything comes together.
Knead the dough gently on a lightly floured surface until a soft dough forms. Do not overwork the dough, or you will end up with though and dry scones.
Press the dough out to 2cm-thick. Use a scone cutter or a glass (5cm diameter) to cut 12 evenly sized scones and place them onto the lined baking tray. Brush the top of the scone with milk and sprinkle some sugar.
Bake the scones in the oven for 12-14 minutes or until they have risen. The cooked scones will look golden. Serve warm with whipped cream.