These Vietnamese Spring Rolls with Wagyu Beef are a refreshing appetizer for an Asian-inspired meal. Made with a chock-full of fresh vegetables and herbs, Vietnamese Spring Rolls are great for a healthier alternative to deep-fried spring rolls! This recipe by GroXers comes with a special treat – the addition of succulent Joshu Wagyu beef will definitely add an explosion of flavor and juices to these delicious spring rolls. Enjoy!
Cuisine : Asian Course : Appetizer Skill Level : Novice
Prep : 5 mins Cook : 20 mins Ready in : 45 mins Serves : 10

---
INGREDIENTS:
200g Joshu Wagyu beef striploin
75g Rice Vermicelli, uncooked
10pcs Vietnamese Rice Paper Sheet
2 tbsp fresh Thai Basil, chopped
4 tbsp fresh Mint Leaves, chopped
4 tbsp fresh Cilantro or Chinese Parsley (optional)
4 Butterhead Lettuce Leaves, shredded
1 small Carrot, halved & cut into thin strips
Cornish Sea Salt Co Sea Salt Flakes and Ground Black Pepper for seasoning
Dipping Sauce 1 

4 tbsp Lee Kum Kee Hoisin Sauce
2 tsp Peanuts, finely chopped

Dipping Sauce 2

4½ Fish Sauce
80ml Water
3 tbsp fresh Lime Juice
1½ clove Garlic, peeled and minced
2½ tbsp Whtie Sugar

1 tsp Lee Kum Kee Chili Garlic Sauce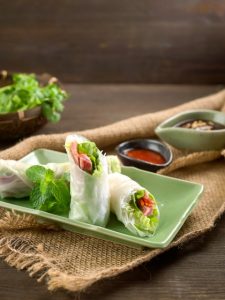 DIRECTIONS:
Season beef lightly with salt and pepper. Sear beef over high heat on both sides for 2 min each or until beef is cooked through. After cooling for 15min, slice into 20 strips and set aside.
While beef is resting, cook the rice vermicelli according to package instructions. Ensure that texture is al dente. Drain, rinse with cold water and set aside.
Assemble the spring rolls, mix the dipping sauces in separate bowls and serve.


Assembling the spring rolls

Dip a rice paper sheet in a large bowl of warm water for 1 second to soften. Lay it on a clean kitchen cloth to absorb excess water and transfer to a flat clean working surface.

About 1 inch below the centre of the sheet, place a handful of ingredients (vermicelli, herbs, vegetables, 2 strips of beef) in a row, leaving about 2 inches uncovered on the left and right sides.

Fold in the bottom flap to cover the ingredients followed by the left and right flaps, and tightly roll the sheet.

Repeat steps 1 – 3 to make the rest of the spring rolls.