Satisfy your cake craving with this healthy Egg White Marbled Butter Cake recipe by Chef Julie! Moist and buttery, the hunt for the perfect Butter Cake is over!
Cuisine : Baking Course : Dessert Skill Level : Novice
Prep : 20 mins Cook : 40 mins Ready in : 60 mins Serves : 6-8

---
INGREDIENTS:
Group 1 – Beat Together
150 g Creamy Butter
110 g Fine Sugar
1 tsp Vanilla Paste
Group 2 – Mix Together
180 g Egg White
50 g Fine Sugar
Group 3
200 g Cake Flour
150 g Evaporated Milk
1 tsp Coffee paste
1 tsp Nescafe Coffee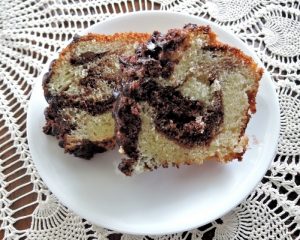 DIRECTIONS:
Cream butter & sugar (Group 1) till fluffy. Add in vanilla paste.
Add in flour & milk (Group 3) alternately in 4 portions.
Whisk the egg-white & sugar (Group 2) till soft peak.
Mix 1/3 of the mixture with the coffee paste (Group 3).
Spoon a big ladle of plain mixture into the middle of the cake tin follow by another big ladle of coffee mixture in the middle of the cake tin. Repeat till all mixture has completed. Starting with plain and ending with plain mixture.
Bake at 170ºC for 40mins till golden brown.