Make your next brunch special with this fluffy delectable recipe. Top it with a light cheese for that subtle added flavour without overpowering the taste of the quiche.
Cuisine : European Course : Appetizer Skill Level : Novice
Prep : 30 mins Cook : 35 mins Ready in : 65 mins Serves : 8

---
INGREDIENTS:
Shortcrust Pastry
250g All-Purpose Flour
1/8 tsp of Salt
125g Cold President Butter (cubed)
1 Egg Yolk
50ml Cold Water
1 Egg White (for brushing)
Garnishing
100g Asparagus (10cm tips only)
200g Leek (cut into 2cm thick chunks)
200g Red Onion (cut into 2cm wedges)
200g Small Eringi Mushrooms or Button Mushrooms (heads only)
200g Cherry Tomatoes
1 or 2 packets President Light Cheese
Custard
250ml President Whipping Cream
50ml Milk
2 Eggs
Nutmeg (to taste)
Salt and Pepper (to taste)
2 tbsp of Chopped Parsley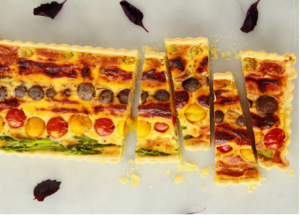 DIRECTIONS:
          To prepare pastry
Sift the flour and salt into a large mixing bowl. Add butter and rub into the flour with finger tips until mixture is crumbly. Add egg yolk and enough water to knead into soft dough. Wrap in cling film and refrigerate for at least 30 minutes to firm up the dough.

Using a rolling pin, roll out the pastry thinly and fit into a 30x12cm rectangular tart mould with a removable base, or other desired mould. Run the rolling pin over the rim to trim the excess. Prick the base of the pastry all over with a fork or spiked roller.

To arrange garnishing

On the pastry base, arrange the vegetables in strips lengthwise with rolled slices of cheese in between strips.

To prepare custard

Combine all the ingredients in a mixing bowl and whisk well.

To bake

Preheat oven to 150oC. Place the tart mould in the oven and pour custard onto the vegetables till the rim. Bake for 30 to 35 minutes, or until it's set in the centre. Cool for 15 minutes before serving.

**Tip 1: It is important to use a tart mould with a removable bottom, or a ring mould placed over a silicon sheet or baking paper-lined baking tray for easy removal of quiche.

**Tip 2: For easy transfer of rolled dough, slip it over a rolling pin to "carry" it safely to the tart mould.

**Tip 3: Store-bought frozen shortcrust pastry can be used instead.

**Tip 4: Rectangular mould can be replaced with 22x4cm round mould.