An elegant dessert that is sure to be a crowd pleaser. Soak gelatin in cold water, as anything less than cold may interfere with the blooming stage.
Cuisine : European Course : Dessert Skill Level : Novice
Prep : 40 mins Cook : 90 mins Ready in : 130 mins Serves : 6

---
INGREDIENTS:
Rice Pudding
200g Arborio (Risotto) Rice
1 litre of Milk
1 Vanilla Pod (split), or I tsp Vanilla Essence
1 pinch of Salt
100g Caster Sugar
4 Eggs
200ml President Whipping Cream (whipped until stiff)
Raspberry Jelly
200g Fresh or Frozen Raspberries
40g Sugar
5g Gelatin Powder (soaked in 25ml cold water)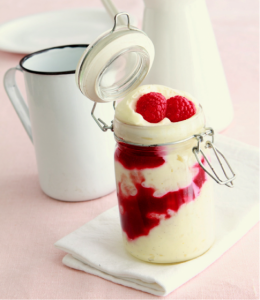 DIRECTIONS:
          To prepare rice pudding
Wash the rice until water runs clear. Place the rice in a saucepan with enough cold water to cover and bring to boil. Cook for 1 minute and strain. Rinse rice under running water.

In a saucepan, heat up the milk, split vanilla pod (or essence) and a pinch of salt. When the milk is boiling, add the rice. Cover saucepan with lid and transfer to a preheated oven and bake at 150°C for 25 minutes.

Meanwhile, beat together the sugar and eggs until creamy. Remove the cooked rice from oven and add sugar-and-egg mixture, stirring continuously for 2 to 3 minutes to prevent egg from coagulating and spoiling the texture of the pudding. Refrigerate until cold.

Add in whipped cream, mix well and set aside.

To prepare jelly

Combine raspberry and sugar in a saucepan and bring to boil over medium heat. Add soaked gelatin and cook for 1 minute. Blend the mixture for a fine texture.

To serve

Layer rice pudding and jelly in a jar and set in the refrigerator to chill. Serve chilled, decorated with a dollop of Chantilly and fresh raspberries, if desired.