These light and fluffy waffles are crisp on the outside and moist on the inside is the perfect addition to your morning coffee.
Cuisine : Baking Course : Dessert Skill Level : Novice
Prep : 40 mins Cook : 10 mins Ready in : 50 mins Serves : 2-3 pieces

---
INGREDIENTS:
160g Flour
3 Eggs
100g Full cream milk
60g Castor sugar
40g Corn flour
60g Melted butter
Fresh fruit puree and dairy cream (Optional)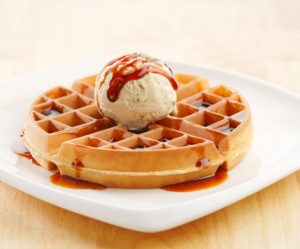 DIRECTIONS:
Mix all together and add in the melted butter.
Let it sit for 30 minutes.
Ladle the batter into the waffle maker and cook until golden brown.