Snack on these easy-to-make Apricot Almond Cookies by Chef Julie Yee that is sweet and crunchy!
Cuisine : Baking Course : Dessert Skill Level : Novice
Prep : 15 mins Cook : 10 mins Ready in : 25 mins Serves : 10-12

---
INGREDIENTS:
125g Butter
90g Fine Sugar
1tsp Vanilla Paste
130g Potato Starch
60g Almond Flour/Plain flour
1tsp Rice Flour
Apricots / Red Dough balls – Decorations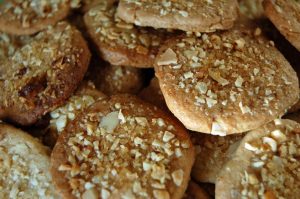 DIRECTIONS:
Beat butter & sugar till creamy.
Fold in all the sifted flours.
Pipe on parchment paper using large stars piping nozzle.
Place a small piece of apricots or red colour dough on top.
Bake at 155°C for approx. 30mins.