Nothing packs a punch like a fiery bowl of creamy Assam Fish Curry. This recipe features lemongrass, tamarind and fresh pineapples for the perfect blend of sweet, tangy and spicy. Try it now!  
Cuisine : Asian Course : Main Skill Level : Novice
Prep : 30 mins Cook : 40 mins Ready in : 70 mins Serves : 2

---
INGREDIENTS:
For the Spice Paste

200g Shallots
90g Lemongrass
80g Galangal
60g Garlic
40g Ginger
1 tbsp Turmeric powder
20g Belachan paste
50g Buah keras (candlenuts)

For the Curry

6 tbsp Oil
40g Spice paste from above (rempah)
30g Chili paste (chili boh)
1 tbsp Curry powder
1 tsp Mustard seeds
1 tsp Tomato paste
250ml Coconut milk
80g Assam (tamarind) paste
250ml Water
2 sprigs Curry leaves
1 tsp Salt
½ tsp MSG
Sugar to taste

Assembly

300g Fish fillet, cut into bite sized pieces. (Snapper, seabass, ikan batang, premium Sutchi, stingray) OR onion, cut into wedges
½ no Eggplant, cut into wedges
½ no Ladies fingers, sliced thickly
2 pcs Tomatoes, cut into wedges
1 no Fresh pineapples
80g Tau pok, cut into smaller squares
2 pcs Coriander leaves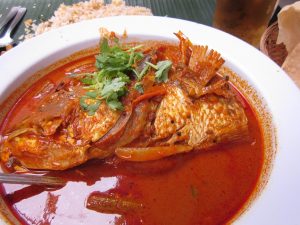 DIRECTIONS:
Blend all ingredients for spice paste together. Reserve desired amount and freeze the rest of the spice paste till the next use.
Heat oil, sauté garlic and spice paste till fragrant. Add the chili paste and cook for another 2 mins.
Mix in the curry powder and mustard seeds; fry the paste for another minute before adding in tomato paste. Cook paste for another 2 mins.
Pour in coconut and evaporated milk. Mix the assam paste with water and strain. Add the liquid to the spice paste mixture together with the curry leaves.
Bring curry to boil and simmer for 20 mins. Add the fish fillets and tau pok, simmer till ingredients are cooked. Pre blanched the egg plants and ladies fingers in hot oil, add to the curry with the tomatoes and pineapples. Adjust taste with salt and MSG, add sugar to taste.
Serve curry garnished with coriander leaves.